LinkedIn introduces data export option and new security features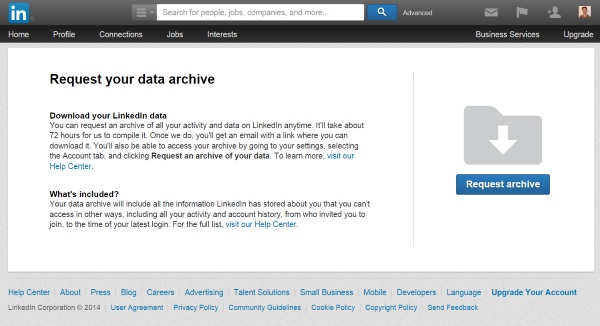 LinkedIn, the social network for professionals looking to stay connected, today introduces a few new features to give users greater control over their accounts. Like Google, Facebook, Yahoo and other online services, it is now possible to check which devices you are signed in on. This is not just something that satisfies a curiosity; the ability to terminate unrecognized sessions means that should you spot that you're still signed in on a computer you're not using, you can remotely sign out of it -- more importantly, it also makes it possible to boot out anyone who has gained unauthorized access to your account.
You can head to the Settings page of your account and click the See where you are logged in link -- alternatively, you can jump straight to the session management page. The page shows a list of all of the sessions that are currently active and provides details such as the associated IP address, the browser that's in use, and the approximate location of the session. Spot something that you don't recognize or looks a little untoward? Just hit the Sign out link. You can also sign out of all sessions in one fell swoop if you prefer.
This is a helpful security feature, and the security theme continues in an updated email format. When you make a change to your account, LinkedIn sends out an email to verify that it was you who made the change. Going forward, these emails will also include session information to help users confirm that the email -- as well as the change -- is genuine.
The final option LinkedIn unveils today is the ability download information about your account. This is something that other social networks have offered for some time now, and LinkedIn's take on things is very much what you would expect. In a few clicks you can download all of the information associated with your account including your status updates, activity logs, and search history. On the Settings page of your account, switch to the Account tab and click Request an archive of your data -- or you can just jump straight to the page. Plan ahead if you want your data, though -- the download could take up to 72 hours to prepare.