SanDisk unveils Extreme PRO SDXC 512GB SD card -- photographers, get excited!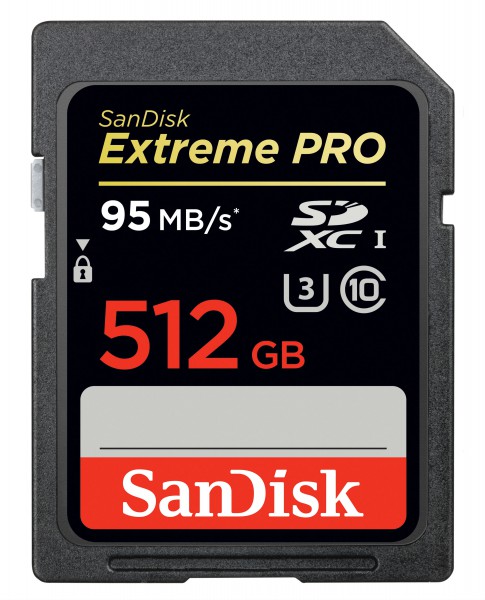 When it comes to storage, more is better. As long as speeds do not suffer as a result, no one will ever turn down the possibility of increased storage space on their devices. One segment that craves storage, is photography. A photographer is an artist, and being concerned about storage limitations hinders the creative spirit. The same can be said of videographers too.
Today, SanDisk sets the hearts of many aflutter, with the all-new Extreme PRO SDXC UHS-I 512GB SD card -- holy cow! Not only can the card hold a ton of data, but it is fast too.
"Since SanDisk unveiled its first 512MB SD card in 2003, capacity demands have increased exponentially and the new 512GB SanDisk Extreme PRO SDXC UHS-I card represents a 1,000-fold capacity increase in just over a decade, yet maintains the same size footprint. SanDisk's most powerful and highest capacity SD UHS-I memory card yet, the 512GB card delivers write speeds up to 90 MB/s and UHS Speed Class 3 (U3) recording speed for high resolution, real-world color and stutter-free 4K Ultra HD video. Transfer speeds up to 95 MB/s move data quickly for efficient post-production workflow", says SanDisk.
Dinesh Bahal, vice president, product marketing, SanDisk explains, "as an industry leader, SanDisk continues to push the boundaries of technology to provide customers with the innovative, reliable, high-performance solutions they have come to expect from us. 4K Ultra HD is an example of a technology that is pushing us to develop new storage solutions capable of handling massive file sizes. The 512GB SanDisk Extreme PRO SDXC UHS-I card is a tremendous advancement that enables professionals to reliably store more content on a single card than ever before".
Before you pull out the credit card, please brace yourself, as the cost is $799. This high price immediately makes the 512GB card unachievable for many consumers, but professionals may purchase it. Videographers shooting in 4K will surely benefit the most. Of course, it would be cheaper for photographers to carry multiple cards, but the convenience of not swapping may be worth the cost.
Will you be dropping $799 on this card? Tell me in the comments.