Audacity refines user interface, improves selected effects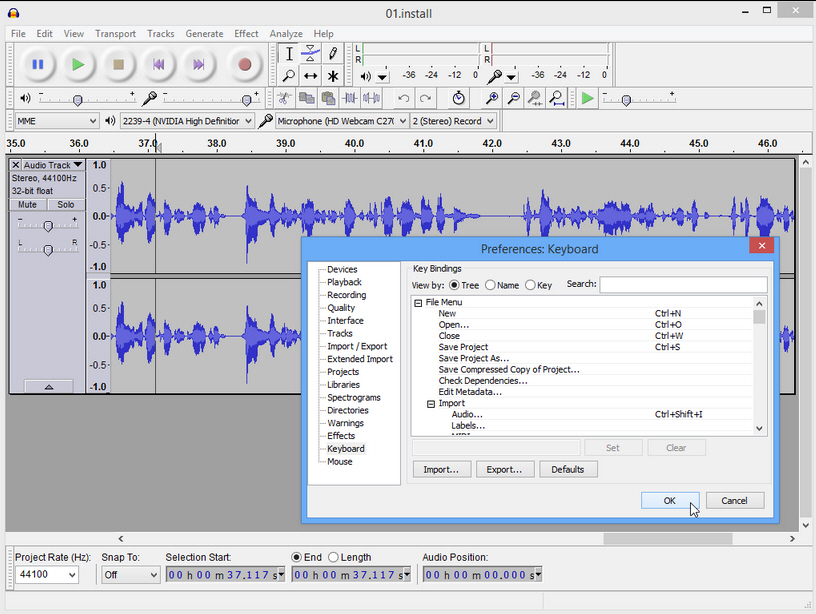 Popular open-source, cross-platform sound recording, editing and mixing tool Audacity 2.0.6 has been released. The new build contains a number of minor improvements and various bug fixes.
Most of these changes affect the user interface. Both Cut and Delete options have been moved to the top of the Edit menu, for example. The Transport menu has also been altered to offer a single Play/Stop button as well as a "Play/Stop and Set Cursor" option for leaving the cursor set where playback has halted.
One consequence of this change is that users must now access the Keyboard preferences menu -- accessible via Edit > Preferences -- to set separate keyboard shortcuts for Play and Stop.
Speaking of which, the Keyboard preferences has been redesigned and made searchable to speed up the process of adding or modifying keyboard shortcuts. It also now provides a choice of three views: Tree, Name and Key.
Elsewhere, the Tracks menu gains a new "Mix and Render to New Track" selection, while the Track drop-down menu offers "Move Track to Top" and "Move Track to Bottom" options.
The context menu gains a "Delete Label" entry for removing single labels, while the "Snap To" option offers a choice of snapping to the closest or prior position. Snap To settings are now independent for each project, and the old "Snap To On" keyboard shortcut no longer works.
Version 2.0.6 also improves its selection of effects: Truncate Silence adds a new "Truncate Deleted Silence" setting to shorten the specified length without compressing the silence.
The VST Effects dialog has been redesigned with a new Settings dialog, while VST effects now support standard FXP presets. LV2 effects are now also supported -- via a textual interface only -- across all platforms.
Platform-specific changes see Windows builds now supporting FLAC exports of more than 2GB in size, while the OS X DMG installer has been made easier to use. Self-compiled Linux builds now search for system LADSPA effects in the /usr/lib/ladspa folder.
The update is rounded off by a number of bug fixes for both user interface and effects, but as with all new releases, a number of known issues remain -- see the release notes for details.
Audacity 2.0.6 is available now as a free, cross-platform download for Windows, Mac and Linux. A portable build of Audacity 2.0.5 is also available -- this should be updated to the latest release shortly.