Acer announces world's-first 15.6 inch Chromebook, adds touch to 13 inch model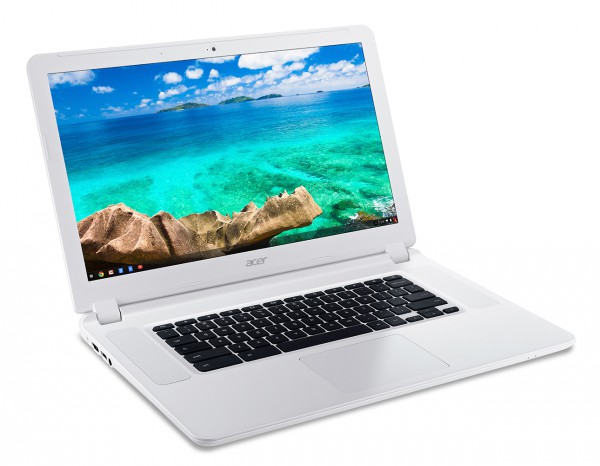 Chromebooks are limited machines, but they have their place. Quite frankly, I use one almost daily for writing in my car. They are lightweight, and for the most part, inexpensive, so I do not worry too much if it gets dinged up or lost. My biggest complaint about these computers, however, is that many manufacturers seem to think Chromebooks are only about being low cost, and that is simply not the case. You see, some people like laptops with Chrome OS not for their price, but for their simplicity and ease of use. Those people may want a mid-range Chromebook and not some chintzy turd.
Acer has been a big proponent of the Chromebook movement and their offerings have been a good mix of quality and value. Today, the manufacturer announces the worlds-first 15.6 inch Chromebook. While that is exciting on its own, there is even more news -- it can have an optional Broadwell processor!
"The Acer Chromebook 15 delivers the performance today's consumers demand with several processor options based on Intel 5th Gen Core micro-architecture. The Chromebook 15 will be available with either a 5th Generation Intel Core i3 or next generation Intel Celeron processor to deliver fast performance and multi-tasking for apps and online games. The new state-of-the art processor pairs with a solid state drive (SSD) for fast saving and accessing of data", says Acer.
The manufacturer further explains, "the Acer Chromebook 15 keeps customers in touch with up to three times faster wireless connectivity via fast MIMO 2x2Wifi 802.11ac. Also, customers can connect other peripherals to it via Bluetooth 4.0, the USB 3.0 port, USB 2.0 port and HDMI port. The SD card reader enables a way to access and transfer files".
All of these features are packed into a beautiful white chassis, that looks classy, albeit a bit plasticy. My favorite feature, however, is the stereo speakers, located on each side of the keyboard. This should equate to some nice audio, in comparison to competitors that put them on the sides or bottom.
To confuse things a bit, there will be multiple configurations available, such as a 16GB or 32 GB SSD, 1080p or 1366x768 display, and 2GB or 4GB of RAM. While the SSD isn't too important on a Chromebook, I urge consumers to opt for the 4GB model; 2GB is simply not enough for a satisfying experience.
Another hard decision will be the processor. Do you choose the 5th generation Core i3? Should you choose the Celeron? Believe it or not, this is less important than RAM, as both processors should handle Chrome OS just fine. With that said, if you plan to dual-boot with a traditional Linux-distribution, such as Ubuntu, and do some more serious computing, the i3 will probably do you better.
The exact release date of the Chromebook 15 is not yet known, but pricing will start at $249 in the United States.
In addition to this new 15.6 inch model, Acer is also refreshing its 13 inch model with an optional touchscreen panel. The company explains, "the Acer Chromebook 13 is now available with a touchscreen, so customers can seamlessly surf, play, edit and more with an intuitive finger swipe. The new Acer Chromebook 13 touchscreen models will be available this month starting at $329.99 in the U.S. and €329 in EMEA".
Will you buy either of these new Chromebooks? Tell me in the comments.