OS X, iOS and Linux have more vulnerabilities than Windows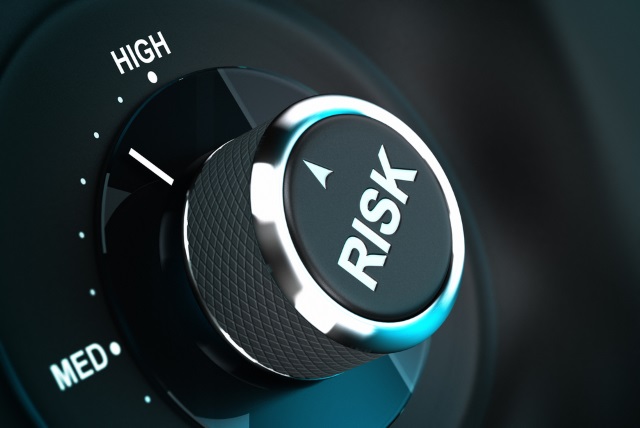 It might come as something of a surprise, but Windows is more secure than not only Apple's iOS and OS X, but also Linux. I'll just let that sink in for a moment...
Windows, the operating system ridiculed for its vulnerabilities and susceptibility to viruses is actually more secure than the supposedly Fort Knox-like Linux and OS X. This startling fact comes from the National Vulnerability Database (described as the "US government repository of standards based vulnerability management data") which details security issues detected in different operating systems and software titles.
The NVD has some revealing statistics for the number of vulnerabilities that were reported in each of the operating systems and GFI Blog has crunched the numbers; many will be surprised to find that Windows is not at the top of the list. In fact, in 2014 it is OS X that was found to be riddled with the greatest number of security problems -- 147 in total, including 64 rated as high severity, and 67 as medium. Also from the Apple stables, iOS did not fare all that much better: 127 vulnerabilities including 32 high and 72 with a medium rating.
The latest version of Windows -- Windows 8.1 -- was found to have 36 vulnerabilities, and its predecessors -- Windows 8 and 7 -- both had the same number. For enterprise users, Windows Server 2007 and 2008 both have 38 vulnerabilities. Windows is reported as having no vulnerabilities of low severity; they cluster under the medium and high labels.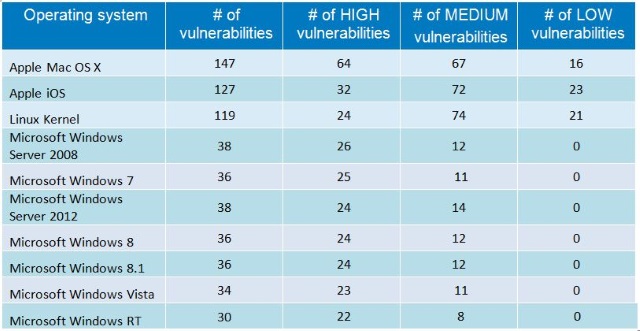 Overall, there has been a huge increase in the number security vulnerabilities in the database. In 2013 the number stood at 4,794, but this shot up to 7,038 in 2014. A lower percentage are rated as high severity, but the number has still increased.
While it is the vulnerabilities linked to individual operating systems that are probably most attention-grabbing, the main problem still lies with third-party software. 83 percent of reported vulnerabilities were to be found in applications, compared to 13 percent in OSes and 4 percent in hardware.
Microsoft might celebrate coming ahead of Apple and Linux in one department, but Internet Explorer was found to be the most insecure web browser. IE had 242 vulnerabilities, compared to 124 in Chrome, and 117 in Firefox.
Photo credit: Olivier Le Moal / Shutterstock