Facebook Messenger unofficially available as OS X app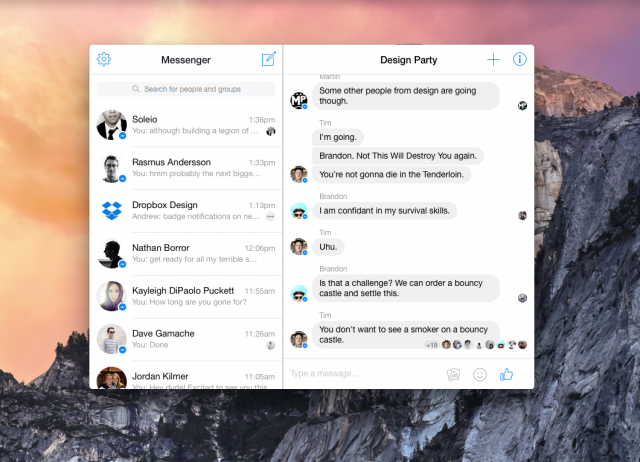 Those of you who simply want to chat with your Facebook friends can now access Messenger through its own dedicated site. The interface is similar to that of the Android, iOS and Windows Phone mobile apps, and there is even support for desktop notifications, so you won't miss any of your friends' important messages.
However, because you have to access Messenger through a site, you have to keep a tab open in your favorite browser. But if you're using a Mac you can also try this new unofficial OS X app, which effectively turns the site into a dedicated client.
Messenger for Mac, as it's called, is basically a wrapper for the Messenger site, tweaked to run on OS X. That means that you can keep Messenger in a smaller window, which makes it look better on large monitors, minimize it, access it easily whenever you want, and more.
Just like the site, Messenger for Mac lets you enable desktop notifications, which work even when your favorite browser is closed. There is even full-screen support, so you can keep Messenger for Mac open in a nearby Space.
Even though it launched around 15 hours ago, the developer behind Messenger for Mac has already released six updates for the app, which are mostly designed to quash bugs and improve usability. The app is both free and open-source, with the source code available via GitHub with an MIT license. You can grab Messenger for Mac from here.