Five tools for recovering corrupted Word documents

You've been working on it forever, and had almost finished, but… Disaster. That all-important Word document no longer opens.
If you're using some other viewer, try reopening it in Word. It may offer to repair the file, and this can fix a lot of problems.
Can your archive tool extract the contents of the document? DOCX files are Zip archives, so that might work (rename the extension to .zip if you have any problems).
If you can see inside the file, browse to the Word folder to check for document content. For example, "document.xml" should contain the plain text.
If none of this delivers what you need, and you don't have any backups, then there's still the chance that a third-party recovery tool can restore at least some of your document.
What's your best option? We pitted five tools against our carefully corrupted test files to try and find out.
DataNumen Word Repair 2.5
Platform: Windows NT
Supports: DOC, DOCX, Microsoft Word 6 -- Office 2-13
Price: $89.95 right now as a special deal, $129.95 normally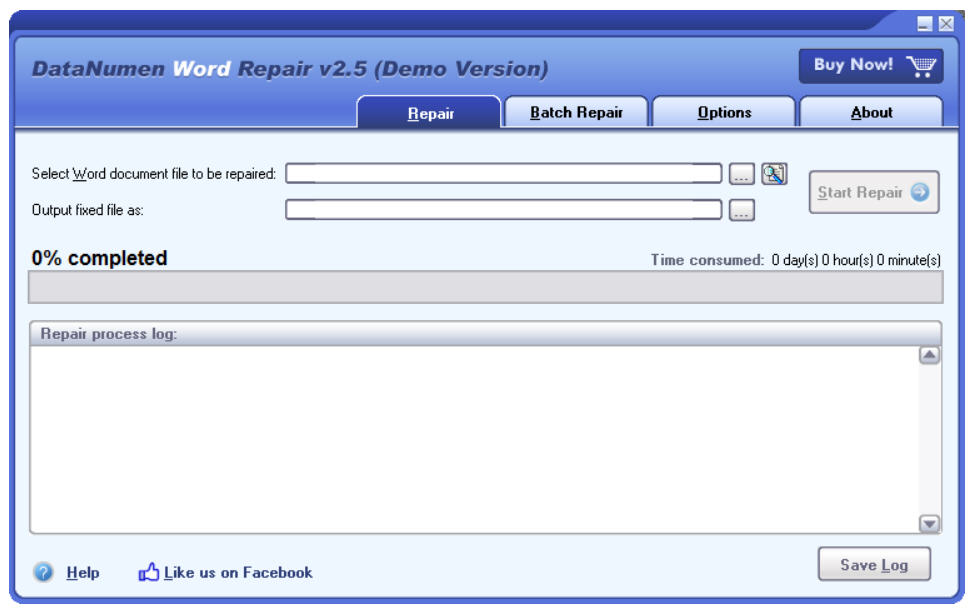 DataNumen Word Repair opens with a cramped and non-resizable interface, but at least it's easy to use: just select your broken files and click "Start Repair".
If recovery has been successful then a window appears to display the results.
The preview is, well, not ideal. The formatting isn't always accurate, even with files that aren't broken. And the fixed-size window is so small that the text wraps, so what you see isn't necessarily going to look like the real page.
There is one preview plus -- no annoying "<demo>" tags inserted into the regular text, as happens with some of the competition -- but that's about it.
Of course this is just a demo, so there's no way to select, save, or print the document content until you purchase a license.
Still, DataNumen Word Repair did well where it mattered, recovering at least some of each of our test files. Worth a try.
DocRepair 3.10
Platform: Windows NT+
Supports: DOC, DOCX, Word 6.0 -- 2010 (and maybe 2013)
Price: from $79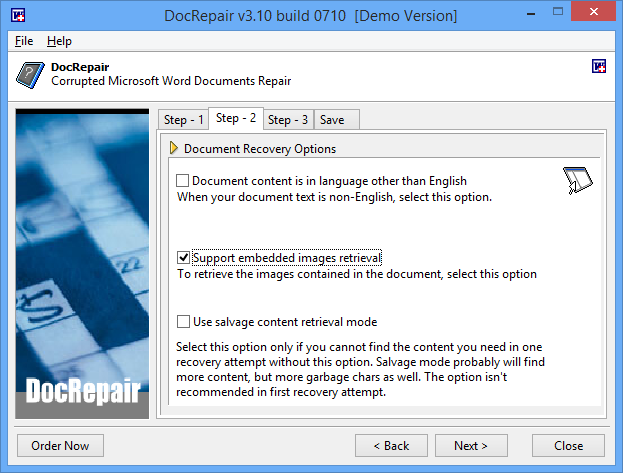 At first glance DocRepair looks like it'll be as easy to use as the competition, with a 3-step wizard to lead you through the recovery process.
But then we ran into the Document Recovery Options screen. Here we were told to check a box if the document text wasn't English (no-one else needed to know this), and check another box to retrieve any document image (all the other tools did that automatically).
Select what you need, click Next, and wait as the document is recovered… Maybe.
In our tests, DocRepair recovered minor damage correctly. Sometimes this took a long time, though, and some of the more seriously corrupted documents saw the program lock up altogether.
Even when it did succeed, DocRepair presented its results in plain text, no formatting at all, with many words replaced by DEMO, and embedded images only visible in a separate dialog. Even if the content seems correct, there's absolutely no way to tell whether the document the program recovers will look like the original.
Put it all together and DocRepair was the poorest performer in this group. You might still want to try it -- there's always a chance it'll recover something that another program has missed -- but that's strictly as a last resort.
Savvy DOCX Recovery 3.0
Platform: Windows XP-8
Supports: DOCX, Word 2007-2013
Price: free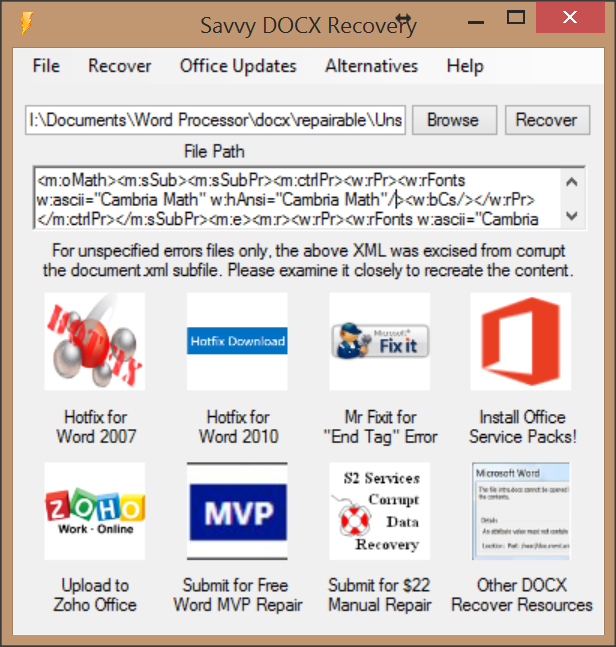 Most Word repair tools are eye-wateringly expensive, but if you're short on spare cash then the open source Savvy DOCX Recovery might appeal.
The initial signs made us wary, with assorted buttons and menu options leading to a host of websites -- some pointless, or with broken links -- and the developer highlighting his own "$22 manual repair" option.
Still, if you ignore all the junk, Savvy DOCX Recovery works much like a basic version of the other tools here. Nothing advanced -- no options, no "batch repair" -- just hit "Browse" to select your file and "Recover" to try and fix it.
Our tests showed very inconsistent results. At its worst, the program failed to fix simple corruption which every other tool here could handle.
But just when we were about to give up, Savvy DOCX Recovery scanned our most damaged file, and repaired it as well as the best of the competition.
Savvy DOCX Recovery isn't exactly reliable, then, but we'd still keep a copy around for emergencies. It just might do everything you need.
Stellar Phoenix Word Repair 5.0.0.0
Platform: Windows NT+ -- 7
Supports: DOC, DOCX, Office 2000-2010 (in our experience 2013 too)
Price: $49 (non-commercial), $199 (commercial usage)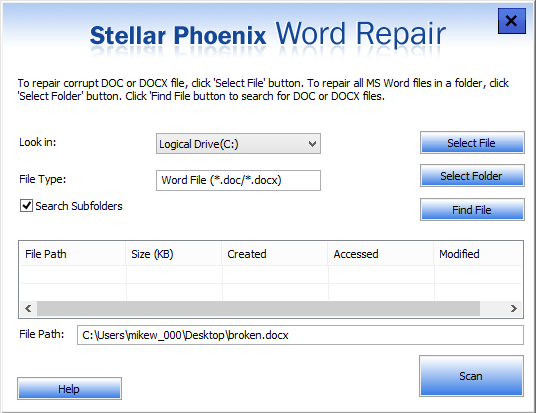 Stellar Phoenix Word Repair installs easily, and has absolutely no annoying dependencies to get in your way (it runs on anything from NT up, and although Windows 10 isn't "officially" supported it worked well for us).
The interface is straightforward. An opening dialog asks you to select the target file or folder, there's an option to search subfolders, and you can launch the repair process with a click.
After 5-10 seconds the preview window displays whatever has been recovered. We were able to view all document content, text and images, but unsurprisingly there's no way to save or print it until you've purchased a licence.
If you selected multiple files then they'll be listed in a left-hand sidebar, and clicking any of these will start another recovery attempt.
Unfortunately, previews are largely crippled for all documents after the first. You'll see some text, but other parts are missing, there are endless "<demo>" tags to get in your way, and formatting is incomplete. It's annoying, but you can get around it by opening documents individually.
Repair performance was excellent, with Stellar Phoenix Word Repair recovering fragments of content where nothing else could. They were just fragments -- a few images -- but it was still an impressive performance, and put the program just ahead of DataNumen Word Repair.
Office Recovery
Online service
Supports: Word 6.0 -- 2010
Price: $39 for one file, $59 for 30 within 48 hours, more subscription options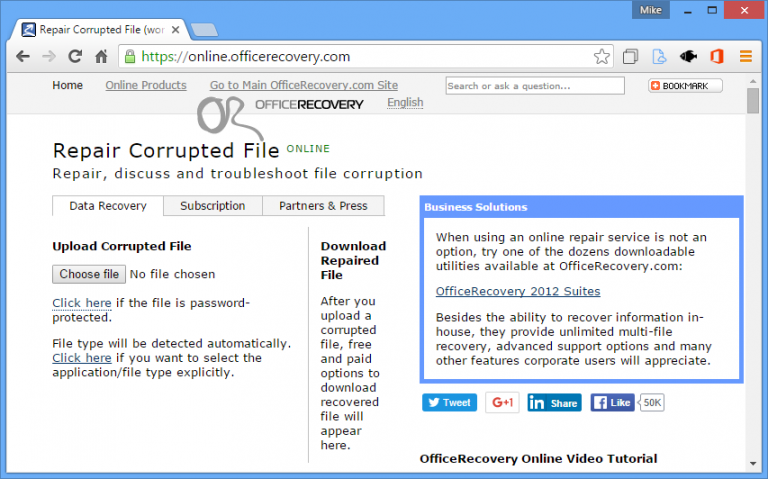 Office Recovery is a web service which can recover a host of file types: Office, email, virtual machines, databases, images, archives, and more.
We pointed our browser at each test document in turn, and watched as it was uploaded and processed.
There's no direct preview of the results. Instead you must download a "demo-repaired" RTF version of the file, and open it in some local application.
As with the commercial competition, Office Recovery doesn't give you the full document for free. The beginning of the file is correct, but after that most text is replaced by the word "demo". Over, and over, and over again.
Office Recovery is easy and convenient to use, and its repair abilities are up with the best of the desktop competition. But it's expensive for anything more than one-off emergency use.
Conclusion
A good Word repair tool must be able to fix all kinds of damage, and -- if it's a commercial product -- give you an accurate preview of your document, so you can be sure it'll be recovered correctly.
DocRepair fails these tests immediately, due its poor recovery performance and plain text, image-free preview window.
Savvy DOCX Recovery also failed to recover some of our test files, but others were repaired perfectly, and as it's also free, this is probably the tool you should use first.
Office Recovery delivered great recovery performance. It's also expensive, but if you need a very quick one-off repair -- or you're nowhere near a PC -- then it's a solid choice.
If you'd like a tool you can use regularly, though, it's a very close match between our final two products. Stellar Phoenix Word Repair's low price just about tips the balance in its favour, if you're a non-commercial user, but DataNumen Word Repair delivers good results too: try them both, see what they can do for you.