Google launches Spaces for sharing links, YouTube videos, images and more with small groups [UPDATE: It's live!]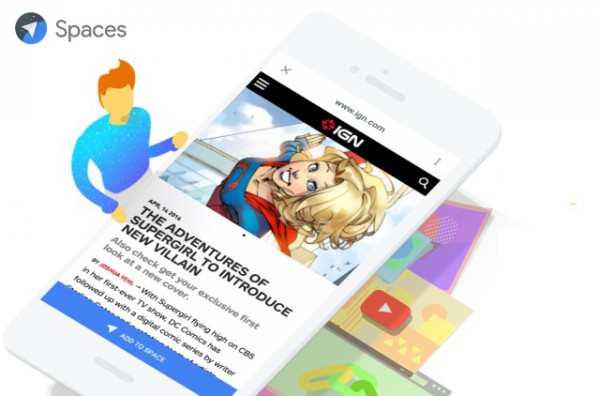 Google is introducing a new way to share content with a group. Spaces is a collaborative tool that Google wants people to use to share everything from articles and images to YouTube videos and messages.
So keen is Google for a huge take up of Spaces, that the service is launching in mobile and desktop web versions, as well as iOS and Android apps. It's billed as an alternative to group conversations, and Google wants to help streamline sharing by eliminating app switching -- this is achieved by integrating Google Search, YouTube, and Chrome into a single tool.
Spaces can be created for any topic you care to think of, and they can then be shared with participants via email or your preferred messaging tool. It's a neat solution that not only brings together a number of Google's offerings into one location, but also includes a chat option. As it's Google, it should come as no surprise that everything is tag-able and search-able for ease of retrieval.
At the moment Google is pitching this at everyone as a way to "share all the things", but it will almost certainly become slightly more focused as it gains a following. It's something that could be used by groups with a shared interest, friends and family, or co-workers collaborating on a project.
More will be revealed at Google I/O this week, but you shouldn't have to wait until then to see what Google is getting so excited about.
At time of writing, Spaces is still to go live, but it is due to launch today. You can find out more at the Spaces website.
Update
Spaces is now live. You can try out the online version at the website, or download the Android or iOS apps.