Squeaky Mouse plays WAVs when you click mouse buttons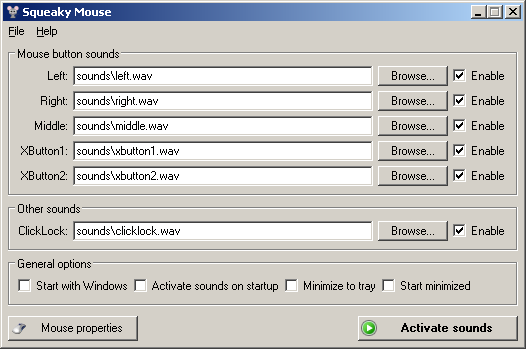 Squeaky Mouse is a quirky Windows application which plays custom WAV files when you click specific mouse buttons. This could be useful audio feedback for anyone who can't clearly see the mouse, perhaps because they're visually impaired, or they're some distance away, perhaps watching an in-person software demonstration.
Or you could just use it to really, really, really annoy someone.
Whatever your motivation, Squeaky Mouse is simple to set up and use, with no installation, adware or other complications.
The program supports left, right, middle, XButton1 and XButton2 click events. Click "Activate sounds" and the default WAV samples become active: click left and your PC says "left", click right and it says "right", and -- you get the idea.
There's also an option to play a WAV file if you've activated Windows ClickLock (Control Panel > Mouse Properties > Buttons), a handy way to highlight or drag without holding down the mouse button.
The default WAV files get annoying fast, but fortunately you can change these to any other WAV file you like.
If you're still thinking this was all a horrible mistake, no problem, Squeaky Mouse is easy to control. You can deactivate the sound on demand, prevent it loading with Windows, or remove it entirely in a click or two.
Squeaky Mouse is a free program for Windows 7 and later.