Microsoft Edge is way more secure than Chrome and Firefox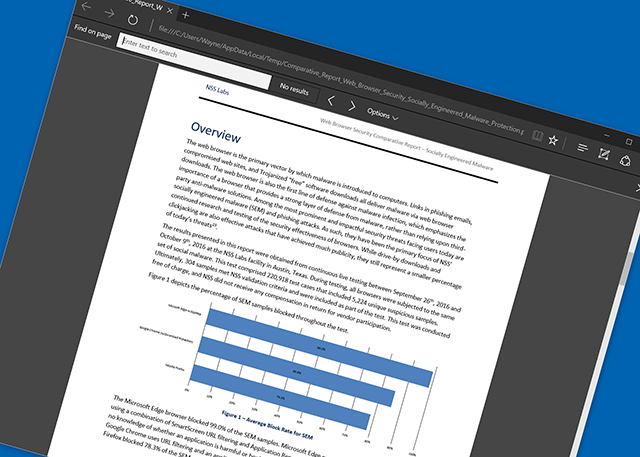 While Microsoft Edge might be a little lacking in features, compared to more established browsers like Chrome and Firefox, one area where it is better than its rivals is security.
That's according to NSS Labs which today announced the results of its latest Web Browser Security comparative test. The test pitted Chrome, Firefox and -- for the first time -- Edge against each other to see how effective the browsers are at protecting against threats.
The test measured how well the browsers did when protecting against social engineered malware (SEM) (one of the most common security threats facing users) and phishing attacks.
The browser versions tested were:
Google Chrome: Version 53.0.2785
Mozilla Firefox: Version 48.0.2
Microsoft Edge 38.14393.0.0
Testing was conducted during the months of September and October 2016, with 220,918 socially engineered malware results and 78,921 phishing results recorded.
Of the three browsers tested, Edge had the highest catch for phishing URLs with 91.4 percent success rate, and the highest block rate for SEM samples with 99.0 percent.
Chrome came second with 82.4 percent average block rate for phishing, and 85.8 percent block rate for SEM samples.
Bringing up the rear, Firefox caught 81.4 phishing URLs, and 78.3 percent SEM samples.
If you wish to find out more about the tests you can download the Phishing Protection and Socially Engineered Malware Protection reports from NSS Labs here.