Dell unveils 27-inch Ultrathin monitor with super-slim profile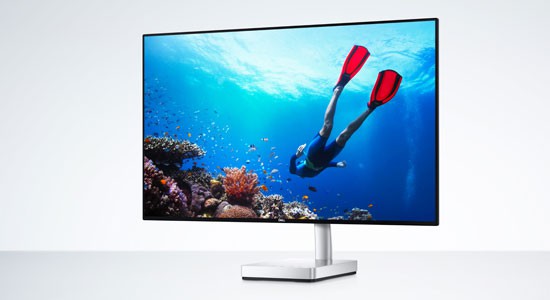 Tech companies use CES to launch a ton of products. Most of them are boring, but some are actually quite interesting. Dell's new 27-inch Ultrathin monitor falls in the latter category, thanks to a very slim profile, sleek design, and some pretty attractive specifications.
The appeal of the 27 Ultrathin, as it's officially called, obviously comes from its thin side profile, which Dell has managed to achieve by having the components that are traditionally placed behind the screen moved to the base of the monitor. That's an elegant solution, which makes the 27 Ultrathin a pretty appealing option for a home office.
The 27-inch panel, which has a resolution of 2,560 by 1,440, features HDR-like technology and covers 99 percent of the sRGB color space. It also offers 178 degree viewing angles, and, thanks to the articulated hinge design, it can tilt and swivel.
Dell is not saying much else about the 27 Ultrathin at this stage, but the company does mention that the base houses a USB Type-C and an HDMI port, as well as a 3.5mm headphone jack for audio output.
The 27 Ultrathin will be available starting March 23 at a price of $699.99. It will be offered in the US first, with international availability to follow later down the road.