AOL Adds 'Snapshot' Content to Search

America Online is convinced that its core competency of empowering its users to "Do more. Faster" will be the steady hand that guides it through the search wars.
AOL will soon introduce over 2.2 million "Snapshot" packages spanning over 30 categories that present subscribers with structured editorial content on top the customary listing of aggregated search results traditionally associated with search engines. The result, claims AOL, is a higher quality service than standard Web crawlers that delivers clear and relevant answers to customers.
AOL officials have acknowledged that the company has no intention of developing its own algorithmic search engine. Instead, its value proposition is that it will conserve members' time and provide subscribers with an immediate payoff by making it easier to search the Web. In essence, AOL does not want to make its users wade through pages and pages of search results before they find what they are looking for.

AOL Search Vice President and General Manager Gerry Campbell told BetaNews the technology that drives algorithmic searches is too expensive and would cut into AOL's margins. Campbell contends that AOL can build a competitive advantage over the competition by rising above the technological fray and making better use of its time as a media company.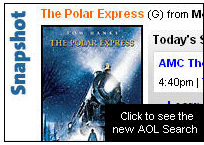 With the understanding that it is a media company above all else, AOL has plotted out its strategy over the past two years; Snapshots are the deliverable. In a Snapshot, Time Warner content assets are layered on top of Google search results and are purely editorial.
Content that is of local use is pulled from AOL CityGuide and Yellow Pages Listings (screenshot); sports from Sports Illustrated's SI.com; audio and video content from Singingfish.com; research from World Book Encyclopedia; pricing and vendor ratings from BizRate, as well as cooking recipes from Cooking Light, Southern Living, Real Simple and other AOL Web properties (screenshot). According to Campbell, all advertising is clearly marked.
In addition to its own exclusive content, AOL will select partners with what it deems "the right content." Snapshots are hand picked in accordance to usual blacklist policies and controversial queries return Google site listings (screenshot).

In a demonstration at AOL's Dulles VA headquarters, BetaNews was shown several real-life Snapshots. A search for "The Incredibles" turned up movie reviews, show times, theater listings and online media (screenshot). AOL users can even purchase a ticket with one-click access to MoviePhone. For older releases that are no longer featured on the marquee, information on where to purchase DVDs appears in the results along with archived reviews.

In two other examples, a query for Payton Manning revealed a baseball card-like page with up-to-date stats (screenshot), and a search for Doonesbury revealed AOL's new query-based publishing system: The day's Doonesbury comic was prominently displayed at the top of the results page.
As AOL narrows its focus down to its subscriber base by offering added incentives, rival MSN has turned to the masses. Microsoft this week unveiled a preview of a revamped MSN Search. MSN Search was previously powered by Yahoo!, but now uses in-house technology. Even still, both AOL and Microsoft are looking to augment searches with specialized editorial content; the beta of MSN Search has also layered MSN content such as music on top of results.

Nate Mook contributed to this report.