Motorola Unveils 9mm Entry-level Phone with E-Ink Display

For the past few years, mobile phone development has followed a PC-like, "top-down" model, where new technologies and concepts are tried at the high end first. For Motorola's next act, however, it's trying the reverse angle: a sweeping new architecture for significantly lower power consumption, using the same display technology that premiered in the Sony Reader device, in a form factor that could deliver as much as 450 minutes of continuous talk time or 400 hours of standby, on a single charge.
At just 9mm thick, Motorola's new Motofone series debuts today, with the first F3 models to be connected to India's GSM network. It's important to note that this is a basic phone, although it does include texting.
But one key to its astoundingly thin design is its E-ink display, which also gets credit for dropping its power consumption. Preview models tested reveal its astoundingly clear readout even without backlighting, though Motofone will be the first monochrome phone to emerge from Motorola in quite some time.
Still, the company's objective appears to be to sell the Motofone in high volume, to markets where millions are relying upon cellular networks for basic as well as mobile connectivity – which explains the F3's premiere in New Delhi today.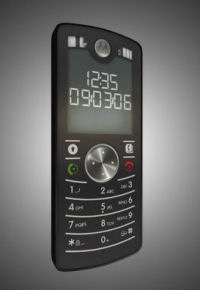 In addition to a completely graphical front end, Motofone adds the option of voice prompts played back in the user's native language, as Motorola says this morning, "to help bridge literacy gaps." The menu system has been radically simplified to a single tier, eliminating the main menu and submenus that plague otherwise snazzier models.
Helping to keep the price low will be the unit's embedded Linux OS, which won't be burdened with playing back video and shooting digital images. Sources quote Motorola officials as saying they believe the F3, once it makes its way to the US, could sell for as little as $50 even without carrier subsidies.
While the F3 represents a low-end instantiation of Motorola's much-discussed SCPL architecture (pronounced "scalpel" by those in the know), many of its design features are expected to be scaled up as time goes on.
Along with the voice prompting, the F3 also features dual antennas, specifically to reduce the likelihood of signal loss depending on the way the user holds the phone. And design engineers may be curious as to whether business phone users, who may need features like GPS but not broadband video, would be interested in an E-ink display to reduce costs and save power. A CDMA network version of the F3 is due for rollout before the end of the year.