'Slacker' Takes on iTunes, Satellite

A small San Diego startup has big plans for an online music service that, if successful, could compete with industry giants like Apple and XM Satellite Radio. Slacker, which launched in beta Wednesday, aims to take Internet radio beyond the Web.
Founded by former CEOs in the online music industry, including Dennis Mudd from MusicMatch, Jonathan Sasse from iRiver and Jim Cady from Rio and Altec Lansing, Slacker is taking a new approach to an old idea: personalized streaming radio stations. The company plans to launch a software application, a hardware player and even a car kit.
At its core, Slacker is similar to services like Pandora, Last.fm and Yahoo! Music. Users can select a radio station based on artist or genre, and custom tailor their own station by selecting songs as "favorites." The Slacker service uses a recommendation engine to play music the user would likely be most interested in.
Users cannot select specific tracks to play on-demand, but the idea is that they can discover new music in the process, with Slacker acting as a sort of personalized DJ tuned into their tastes. Like its competitors, Slacker will be free and supported by advertising, but the company isn't stopping there.
In the second quarter, the company expects to release the Slacker Jukebox, which brings the Web-based radio player to the desktop and adds a complete media library. Customers will then have the option of paying $7.50 per month for a "Premium" subscription which removes the ads and stores all "favorited" songs on a computer for playback through the Jukebox software.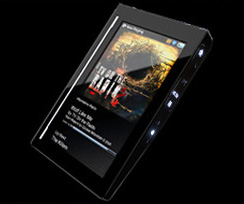 Slacker isn't stopping with the desktop, however; an iPod-like portable device is also in the works. The player includes a 4-inch color screen and Wi-Fi connectivity for automatically syncing music from a user's custom radio stations and favorite songs. Pricing for the device is expected to range from $150 to $300 depending on capacity.
The company also plans to beam its service to customers while they are on the go using satellites, much like XM and Sirius do now. However, unlike typical radio operators, Slacker will deliver the user's custom station, rather than pre-programmed content. Pricing and a release date for the car kit have not been announced.
Slacker may have a bold mission and a solid team behind it, but the company faces a steep uphill battle that will pit the company against major players in the music space - who likely won't be happy with an upstart nipping at their heels. Thus far, Slacker has raised $13.5 million in funding, but more cash will surely be required if it wants to follow through with its lofty hardware ambitions.