Windows Server 2008 'The Last 32-bit Operating System'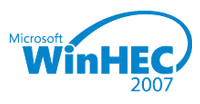 LOS ANGELES - During this morning keynote sessions at WinHEC 2007, Microsoft general manager for Windows Server Bill Laing officially proclaimed Windows Server 2008 "the last 32-bit operating system" the company will ever release, for either servers or clients.
"We're in the middle of a transition to 64-bit computing," Laing told this morning's audience. It was inevitable that this would happen, he went on, but now's as good a time as any given the fact that memory prices are continuing to fall. Historically the transitions to 16-bit and 32-bit computing were difficult to make, he said - perhaps he could have called them excruciating. "But once we get through it, you look back and realize all the benefits, and realize it was the right thing for the industry.
"Windows Server 2008 is the last 32-bit operating system that we'll produce," Laing then pronounced. "Post-2008, we will transition to 64-bit. Many Microsoft products are becoming 64-bit only today, because they're realizing the benefits of 64-bit computing. Exchange Server 2007, Windows Compute Cluster Server, and Windows Server Virtualization are all 64-bit only today, because they give significant benefits."
As testers begin installing Windows Server 2008 Beta 3, Laing noted, the company's noting a higher percentage of 64-bit adopters.
But what does this mean for operating system support down the road? If Laing's pronouncement holds true, even the Windows Server editions designated for home users (don't forget "Home Server" is a server) will be 64-bit only. That won't be a problem for system designers, though it may be a factor for individuals looking to build their own home servers on the cheap, perhaps using Gigabyte's upcoming Micro DTX form factor motherboards.
<!media id=790 center>
Future extensions to the Windows Server product line will also be 64-bit only apparently, including the new medium-sized business edition coming early next year, code-named "Centro," and its small business edition "Cougar" later in 2008. Currently the roadmap shows the R2 edition of WS2K8 showing up in 2009.
But service packs are also "inevitable." They're not considered releases (some reporters here asked the question a few times just to make sure), but rather extensions. They will have to support 32-bit installations already in the field.