Microsoft Introduces New Vista SKU Specifically for Virtual Deployment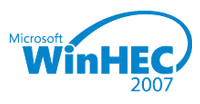 LOS ANGELES - In a completely unanticipated announcement made quietly during a virtualization talk here at WinHEC 2008, Microsoft announced a completely new SKU of Windows Vista, to be entitled Vista Enterprise Centralized Desktop (VECD). Its purpose will be to enable Vista to run within an enterprise exclusively as virtual machines, managed centrally using System Center Virtual Machine Manager.
Under the new system, a thin client logging on will request a VM image from SCVMM. Based on the user profile it pulls up from that logon, SCVMM will then locate the best server on which the image of Vista will be run. Applications licensed to that user will then be run from the VM, as well as the seat for Vista that's licensed to that user. But only a thin virtualization connection package will address that image remotely.
The result is a dramatically new way to deploy Vista and applications, entirely through virtual machines but still licensed to virtual machine users. Users will still see many of the same benefits, but with the possibility for dramatically slimmed down clients.
FURTHER DETAILS FORTHCOMING