What Happens to Viridian Virtualization Going Forward?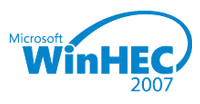 LOS ANGELES - With some of Microsoft's key goals for its Viridian virtualization program having been postponed until a later release -- how much later not having yet been specified -- some of the feature demonstrations of Viridian scheduled for WinHEC were cancelled. Obviously Microsoft isn't pulling back on its commitment to the virtualization concept, but how quickly can the company reassemble its strategy, especially with strong competition from VMware?
At least some answers are coming this morning from Microsoft general manager Mike Neil, who is presenting one of the remaining virtualization sessions to an unusually packed audience for a last-day, early morning session.
Windows Server Virtualization, Neil said, will be provided to customers as a role, meaning a server can be set up relatively simply through an automatic script, giving the hardware all the services it needs to provide VM services.
Neil confirmed that the kernel for Windows in a server whose role is set up for virtualization, will be Server Core - the command-line-only version that removes the graphical overhead. Virtualization Service Providers (VSPs) will share the parent partition with the Server Core kernel. This is important because it may enable some servers to deploy SLES 10 from Novell in a virtual envelope maintained by a stripped down Windows, in order to consolidate resources and provide security.
He also stated Microsoft is working closely with Novell to map its Viridian hypercall API with the XenSource hypercall API, in order to facilitate interoperability. He also implied recent developments by other unnamed Linux engineers and vendors may be making it difficult for Viridian to offer similar interoperability with other builds.
While the Viridian API will be made public, Neil added, Microsoft will not be making efforts to drive it as a kind of virtualization standard.
9:45 am PT - In response to our question regarding the delayed features in Viridian, including live migration, hot adding of peripherals, and 64-processor scaling, Neil reiterated a message that has appeared earlier on his blog. He said a decision was made that these features "weren't squarely in the center of the target market," and that the postponement decision was qualitative, not developmental. The implication there was that there wasn't a technological problem (i.e., bugs) in getting the features out on time.
Customers Neil has spoken with, he added, were happier that Microsoft is being tenacious about getting some working version of Viridian to market, rather than holding up on features that may target some of the more extreme segments.