Microsoft 'Popfly' Shows Off Silverlight

When Microsoft introduced Silverlight -- its new platform for building rich Internet applications -- at MIX last month, consumers had one key question: Why should this interest me? Microsoft made its first attempt at an answer Friday with the alpha launch of "Popfly."
In simple terms, Popfly enables users to create mashups (a single service that utilizes multiple services), gadgets, Web pages, and even applications. But the real power of the new online service -- and what sets Popfly apart from Yahoo Pipes -- is the ease in which it can be done, without any technical know-how or development experience.
For this, Microsoft has leveraged Silverlight 1.0, currently in beta. Popfly's first component, Popfly Creator, forms the building blocks of the service. Mashups and gadgets are created by simply dragging and connecting visual "blocks" that represent APIs from a number of Web services.
Even in this early alpha stage, Microsoft has included 40 blocks that include content from Flickr, Windows Live Spaces, Virtual Earth and various news services. The company says more third party blocks are on the way, and developers can build them using Silverlight.
But Popfly doesn't just offer the creation of mashups or gadgets or Web pages; a social aspect plays a central role as well. Popfly Space is essentially a subset of Windows Live Spaces that lets users connect with creators of other applications, which are all stored on Microsoft servers.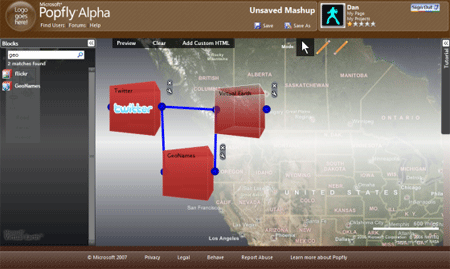 WIthin this social network Popfly users can share, rate, comment and even remix creations from other users, Microsoft says.
Due to load constraints, however, not everyone can take part in building applications online using Popfly at this point. The alpha test is private and only those invited can sign up. Microsoft plans to distribute invitations in phases, and is accepting requests on the Popfly homepage. Existing users will also receive invitations to distribute virally.