Where is Microsoft Going Today with Its Touch-Table 'Surface?'

This morning's announcement by Microsoft of a new specification for table-top touch-sensitive computers - highlighted by a demonstration package produced for NBC's "Today" program - came as no surprise to BetaNews readers who read about an early demonstration of what's now being called "Microsoft Surface" technology, at the company's WinHEC conference in Los Angeles two weeks ago. But judging by its reception, the early demo may have gone off less splendidly than the NBC package.
The concept has been in Microsoft's labs for quite some time, and it's certainly not the only company that has ever worked on this idea: multi-point touch-sensitive horizontal displays that enable information to appear on a table, and that let users "grab" it as though it were objects movable beneath a transparent surface.
But this morning's announcement adds one bit of information: The company is now working with partners to premiere working prototypes of Surface computers in retail stores, hotel lobbies, and potentially casinos - although the extent of its participation in the latter category may be subject to regulatory approval first.
A marketing document released this morning explains that a Surface device "turns an ordinary tabletop into a vibrant, interactive surface. The product provides effortless interaction with digital content through natural gestures, touch and physical objects. In essence, it's a surface that comes to life for exploring, learning, sharing, creating, buying and much more."
And in a prepared Q&A released this morning, the company's newly appointed chief of the Productivity and Extended Consumer Experiences Group, Tom Gibbons, borrowed a term made famous by Arlo Guthrie in explaining, in now-familiar Microsoft-ese, what "it's about."
"Surface computing is a powerful movement," Gibbons projected. "In fact, it's as significant as the move from DOS to GUI. Our research shows that many people are intimidated and isolated by today's technology. Many features available in mobile phones, PCs and other electronic devices like digital cameras aren't even used because the technology is intimidating. Surface computing breaks down those traditional barriers to technology so that people can interact with all kinds of digital content in a more intuitive, engaging, and efficient manner. It's about technology adapting to the user, rather than the user adapting to the technology. Bringing this kind of natural user interface innovation to the computing space is what Microsoft is all about."
Microsoft has often "pre-previewed" certain technologies to certain interested parties or to the press, as a way of ascertaining what public interest in a product may eventually be. Sometimes these demonstrations are helpful in unanticipated ways, perhaps to inform the company which ways not to go with a product.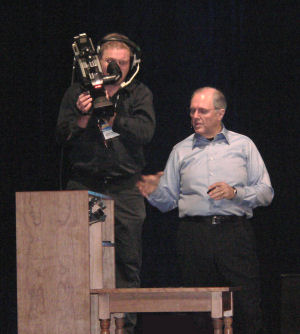 During a keynote speech at WinHEC two weeks ago, the company's chief research and strategy officer, Craig Mundie, gave the first general public demonstration of what is now considered a Microsoft Surface computer, using a form factor the hardware engineers in the crowd weren't expecting: a bookshelf table that, on the "surface," looked like it had just been purchased from Service Merchandise and assembled an hour before the show. [EP's note: This photo was slightly retouched to remove the back of someone's head from the bottom of the shot.]
"What we have here is a traditional table," Mundie's demonstration began, with the uncertain tone of an amateur magician trying out for a talent show. "Nothing magic about the table, but here we have a projection capability with cameras attached to it. This is built with the same technology today that is being made in huge volumes to do Web cameras, for example, or video cameras on the inside, and a TV display on the outside. [Rather than] putting them into a PC for processing, we're able to build an intelligent input/output system."
As his demonstration continued, some audible snickering could be heard from the crowd.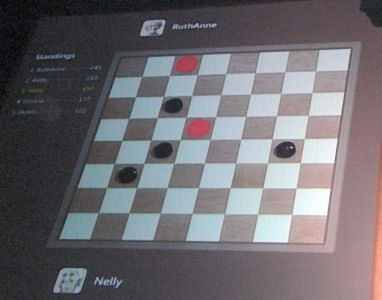 "Here, this game of checkers is one that perhaps an elderly person would play, who's confined to their homes, and she'd play checkers with a friend of hers. So here's a game in progress, and I can take the checker and move it, and I've got physical pieces. The computer is essentially reflecting the moves of the person on the other end by representing them in video."
As Mundie made the final move, however, it turned out that "Nelly's" opponent all this time was a computer-generated elderly friend. With a voice reminiscent of what one might expect from Ray Bradbury's "Usher II," the electronic "RuthAnne" murmured, "You won again! But I'll win tomorrow! Thanks for the game."
"They can talk to each other, there's essentially a video conferencing system in it, to [run the] game at the same time," Mundie continued. "But the table can be used for many purposes."
It is here that the demonstration turned from eerie to blatantly bizarre.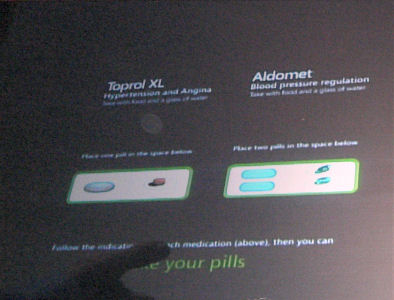 "So here at the end of this game, it's time for Nelly to take some of her medication," Mundie went on. "One of the big issues is getting elderly people to take them at the right time, and to take the right ones. Here, we can actually use optical recognition, and they actually put the pills down."
As he demonstrated, the table would provide a sort of template on top of which "Nelly" is expected to place her pills, before she can continue doing whatever it was she had planned to do next with the talking table. If she put the wrong pill on the surface, the table will warn her. (Behind me, someone commented that the "Aldomet" pills looked like the "OK" buttons in Mac OS X.)
If the checker-player-turned-patient feels she's having an "interaction" with her medication - which could indeed give "interaction" a whole new meaning in this context - Mundie said the table would give Nelly an opportunity to participate in a survey, probably letting her touch on-screen...or on-table buttons corresponding to where she feels her aches and pains.
"So here are two things that are natural extensions to the kind of technology we have in the personal computer environment," said Mundie, "and yet it gives us the ability to do things that would otherwise be quite challenging for people to deal with."
It had seemed that Bill Gates' CES 2007 demonstration of LCD wallpaper that could be instantly switched to suit the tastes of visiting grandmothers, would have been the single least well received demonstration in his company's history. But with all due respect to Craig Mundie - who may have felt as uneasy demonstrating this material as many of us did watching it - the checker-playing, pill-pushing stationery table is easily the least well-received demonstration ever given by Microsoft, dating back to the days when Gates' own "Microchess" challenged "Sargon" on the Apple II.
Throughout the entire show, it was the buzz outside the sessions and throughout the lunch rooms, and the part attendees called their wives and girlfriends about on their cell phones in the corners of hallways. It wasn't the touch-screen technology that people were talking about, though: it was the bewildering notion that Microsoft would want to "make our lives easier" by both entertaining and medicating our parents and grandparents.
For that reason, it is extremely noteworthy that the list of Microsoft's announced partners for its Surface technology includes Harrah's, Starwood Hotels (the parent company of Sheraton), and T-Mobile...and does not include the manufacturers of Toprol, Aldomet, or any other anti-depressant.