TechEd 2007: Vista's Priorities Now Favor Media Player, Russinovich Demos

ORLANDO - Perhaps the closest thing to a rock star you find at a technology conference is a guy whose talks are so good, that the same attendees will attend their encore performances. If anyone makes a list of three "rock stars" at TechEd, one of them would have to be Mark Russinovich, the former SysInternals security engineer, now a Technical Fellow with Microsoft.
Russinovich's "Kernel Changes" talks are among the "must see" items on attendees' schedules, and is often the only place where you can find them walking up to the podium to shake the presenter's hand and introduce themselves...before the session begins. Each time, Russinovich mixes the talk up a bit. This time around, he used virtual XP and Vista sessions to demonstrate an interesting new set of priorities on the part of the operating system, as provided by Multimedia Class Scheduler Service.
XP users are familiar with the situation where the playback of media files is slowed down when the CPU comes under stress by other processes. This happens to me all the time: I'm transcribing an audio file, I'm running Word and my photo editor and perhaps Visual Studio, and I have to hit Stop and Play pretty frequently. Each time I do, the playback gets a little bit slower...and slower...and slo...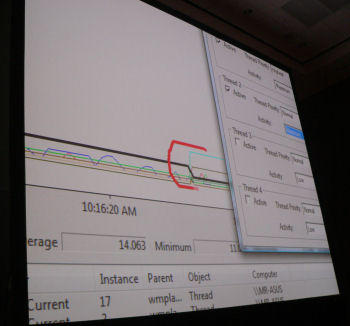 With a musical demonstration, Mark showed a Vista CPU Performance Monitor graph (another of the many performance tools people don't realize it has), depicting the priority level Vista continually gives to the Media Player 11 thread while the CPU is under stress.
When one of Russinovich's many tools (many have compared him to Peter Norton in the late '70s) places artificial stress on the CPU, instead of slowing down the music playback...MMCSS kicks in and boosts MP11 to priority level 21 or thereabouts.
What slows down? The mouse pointer, curiously enough. Sure, your input gets a little bogged down, but you can still tap to the beat. In fairness, MMCSS is a vitally necessary service in the wake of Windows Home Server, whose principal feature is the centralized storage and streaming of media. If the server's busy doing backups, you don't want the dance party going on in the basement to slow down.
More from Russinovich and the rest of TechEd 2007 throughout the week in BetaNews.