NVidia Moves Further Into Integrated GPUs

Today's introduction of a new set of GeForce 7 integrated graphics chips for PC motherboards marks a major push for nVidia towards a segment of the market that Intel has traditionally commanded.
For years, graphics processor manufacturer nVidia has executed a simple strategy: Introduce innovative features on the high-end first, then push yesterday's high-end features down to the mainstream. By consequence, yesterday's mainstream GPUs were pushed to the low end, where the company historically maintained it's a better choice than integrated graphics.
But with more motherboard manufacturers relying upon Intel's newest chipsets to drive its latest CPUs, value systems started appearing in the market with nVidia's value-priced cards stacked on top of Intel's integrated GPUs, which weren't being used but were there anyway. If it's a question of which is the easiest to remove, it's the one that most easily unplugs...so nVidia was faced with a problem. Today it's answered that problem by unveiling its first a new line of integrated GPUs - essentially modified GeForce 7 series tailored for inclusion on motherboards with both Intel and AMD CPUs.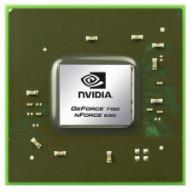 Internally, nVidia calls these chipsets C51; today, they're available to motherboard manufacturers, including those seeking to reduce costs in a new way. Intel's integrated chipsets have historically been targeted for the value segment of the market, for whom gaming and full-motion video performance are secondary objectives. A mainstream (middle-of-the-line) PC producer could opt to include them or exclude them and plug in a discrete graphics card instead; now, the middle segment has a respectable integrated chip option for the first time.
What's the catch? The C51s are designed to be paired up with nVidia motherboard chipsets, which manage I/O, system infrastructure, and memory (for Intel CPUs) functions.
This morning, nVidia released a brief video (Windows Media video available here) purporting to be a demonstration of C51's performance against comparable Intel GPUs. In actuality, there's no comparing the two: Intel integrated graphics is incapable of running today's upper echelon PC games, several of which nVidia just happened to choose. So on the right, you see the chosen games running; on the left, you see them not running.
So with what should one rightly compare the C51 series? A detailed comparison chart (PDF available here) shows the specifications of all ten models being introduced today. But while six of those models are for AMD-based systems (with nForce 405, 630, and 630a chipsets) and the other four for Intel's (with nForce 610i and 630i), AMD customers may be the ones more likely to claim they've been shortchanged.
The reason is because the chips with more limited feature sets and clock speeds are being rolled out on the AMD side of the fence, while the 500 MHz and 600 MHz versions are for Intel only. When compared to nVidia's discrete graphics line, the AMD side is more comparable to the company's GeForce 6800 Ultra and 7800 GTX (the latter of which was the top of the line only last year); the Intel side, meanwhile, is comparable to the GeForce higher-clocked 7950 GX2 and 7950 GTX.
That said, the one chip nVidia reserved for home theater system builders - the GeForce 7050 PV - is for AMD-based systems with nForce 630a chipsets. This is the only chip in the line to support the company's PureVideo platform, which embeds H.264, WMV, and MPEG-2 codecs in firmware.
Intel's new integrated graphics general manager Drew Henry (formerly senior director of platform products) was quoted in the company's statement as saying, "Integrated graphics are no longer 'good enough' for mainstream applications. Windows Vista has opened consumer's eyes to an entirely new visual experience."
Here, it might be nice to have included an asterisk: None of these new chips is based on the GeForce 8 platform, which supports Microsoft's DirectX 10 in Vista. This doesn't mean such a chip won't appear on the horizon later on, but for now nVidia needs to maintain a case for a performance premium for its discrete graphics card line.
---

CORRECTION 7:05 pm ET September 25, 2007
- When
PC_Tool
is right, we say so. Despite what we were led to believe, today's GeForce 7 integrated chips are
not
nVidia's first entries into this market.
Though technically considered part of the nForce 400 chipset, nVidia's 6100 and 6150 series were indeed separate GPUs designed for use on motherboards, and they were introduced back in September 2005. Today's new entries are being marketed separately, though technically, they perform the same role as the 6100/6150. There hasn't been much follow-up since then, and apparently today's entry was tailored to have a certain "debut" look about it...and I have to say, it worked. Thanks, PC_Tool, and we stand corrected.