ATI's latest GPU targets the mainstream first

The latest holiday graphics card line from the company in red has a distinctively green feeling to it, maybe for the first time.
When AMD acquired graphics card producer ATI in July 2006, the executives who brought the two titans together told a two-part message: First the fusion would benefit both brands; second, the ATI identity won't be going away.
But former ATI CEO Dave Orton did leave AMD last July after all, giving the post-merger state of the company a certain Daimler Chrysler feel to it. And yesterday, AMD's rollout of ATI's new Radeon 3800 series GPUs had a definitive AMD flavor to it. Unlike typical rollouts from ATI and nVidia in the past, in which the best features premiere at the enthusiast price level and mainstream buyers get to wait six to eight months, this time some of ATI's most important new technology components are being geared for the mainstream buyer first, at less-than-premium price points.
It's a gamble with some sensible-sounding logic behind it, especially given the warnings economists are making about this holiday season's outlook. With consumer spending likely to take a dip over last year, manufacturers should be adjusting their target markets for more moderate spending.
So the fact that the high-end model in ATI's line-up, the Radeon HD 3870 with 512 MB of the fastest GDDR4 memory on board, will sell for a suggested $219 in the States, is something of a surprise. Three years ago, the $200+ price tier represented the high-end of the GPU market, until nVidia started exploiting higher ground, introducing its highest-end performers in glitzy, premium packages that eventually cracked the $1,000 barrier.
Usually the smarter buyers wait until time for the next product cycle, when the once-premium tier GPU gets repackaged as a more mainstream model, and gets a very heavy discount. Recently, $200 has been the "sweet spot" for buyers seeking the best performance for the dollar.
Now, ATI is actively courting that buyer directly, and not with a second-hand or discounted model. With Microsoft's version 10.1 upgrade (some call it "correction") to DirectX 10 due to arrive with Windows Vista SP1, the ability for cards to take advantage of its improved use of memory and its enhanced shading capabilities is a much-desired feature.
ATI opted to premiere its DX 10.1 support with the 3800 series first, as well as boost its feature set with support for dual monitors at varying resolutions, so that the second monitor can run as a dedicated HD display. These are real-world features that everyday consumers can understand, especially if small OEMs equip their custom-made systems with 3800 cards for mainstream buyers.
The latest benchmark tests from TG Daily's Darren Polkowski show the 3800 series ever-so-slightly outperforming nVidia's GeForce 8800 GT - the latest of its premium tier to slide down into the sweet spot - in the more general tests. Average prices for 8800 GT-based cards (OEMs build their own cards using nVidia's chips) hover today around the $230 mark, ever-so-slightly more expensive than ATI's 3800 price points.
To help ATI make its case to mainstream consumers, AMD presented yesterday some screen shots of a demo of its current support for the future DirectX 10.1 - what customers will see from their cards tomorrow if they buy today. They appear in a new white paper (PDF available here) featuring technical explanations of Microsoft's visual innovations - including some items that were actually planned for DX 10.0 but which weren't actually finished in time.
Among the most convincing of these demonstrations is the one involving global illumination. As rendering engineers know all too well, while ray tracing would be the optimum way to determine the proper light and shade to apply to all points in a scene (following the paths photons take as they bounce off surfaces with different textures), that process is still too detailed for even today's GPUs to attempt. Up to this point, the general shade applied to objects in a room has been determined by ambient lighting, with a few features tacked on to fudge for less-than-believable results.
---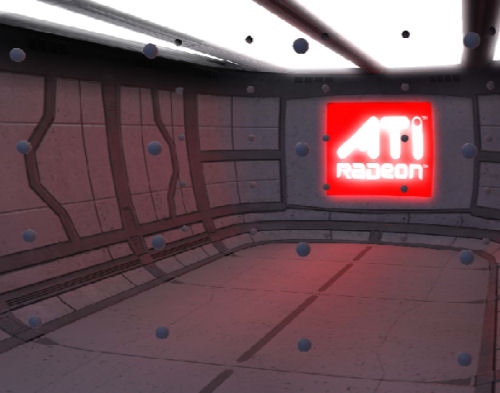 In a very convincing demo of DirectX 10.1 provided by an AMD white paper, we see white balls in a white room with varying trim and colored light. In the lower plate on the right side, you see how current ambient lighting techniques make the balls disappear against the background. By understanding the nature of bounce light, DX 10.1's adjustments make these white balls seem like tangible objects to the human eye.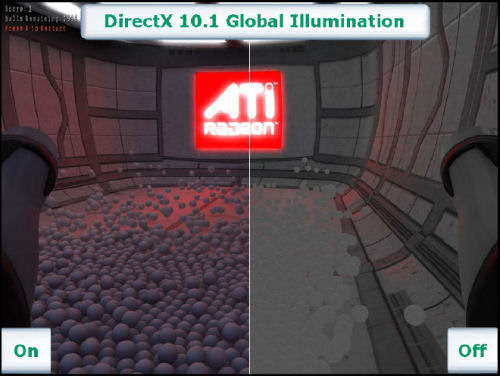 ---
An ATI demo of global illumination in DX 10.1 shows how Microsoft chose to mask this problem without fudging it too much: The new scheme actually creates rendered scenes in memory, at less than display resolutions, for multiple points in space. Those scenes are used only as samples to determine the predominant colors and shades, for what engineers call "light probes."
Assuming then those chosen points in space are represented by invisible cubes, the probes can estimate a reasonable light color value for any vector one needs to check, for light that passes through those cubes. Thus, without sampling every point in space like ray tracing would, the viewer gets a respectable approximation of bounce light.
The results are very dramatic. White balls in a white room have a multitude of colors in reality that can be completely missed by ordinary renderers. Those colors are provided by bounce light, and those shades are sufficiently represented by global illumination.
With marketing phrases like "performance per watt" providing the icing on the cake - green icing, not red - the entire ATI Radeon 3800 series rollout has a distinctively AMD flavor to it. If this works, ATI could set up a market position for itself against nVidia analogous to the one AMD had (and would like to rekindle) with Intel.