AMD in trouble: Barcelona bug, ATI write-down cast bad shadows

At the opening of an analyst meeting this morning, the president of AMD lowered expectations for his company, saying it no longer needs to produce the best performing CPUs, and hinted at scaling back its R&D.
AMD's senior executives held a gathering in New York City this morning, where it would appear on the surface they had escaped the terrible winter weather that has clinched its home state of Texas and neighboring Oklahoma. But a very bad storm is on the horizon, as indicated by president and COO Dirk Meyer's opening remarks, which lowered the bar for what would normally be perceived as "cautiously optimistic."
"We operate in an environment where many people feel that AMD needs to have the highest-performance CPU component in order to be successful," Meyer said. "And I tell you, that perception is false."
Meyer was referring to the impact the company is feeling from an "erratum" in its first quad-core CPUs, which cause noticeable slowdowns at higher clock speeds. AMD has been shipping in limited numbers its first quad-core Opteron server CPUs and Phenom desktop processors with the erratum anyway, though with a BIOS fix that is believed to actually disable one of the processor's caching features -- an off-switch that enthusiast Web sites covering the issue believe could reduce overall performance by 10% or more, and substantially lower performance in some categories over AMD's existing dual-core product line.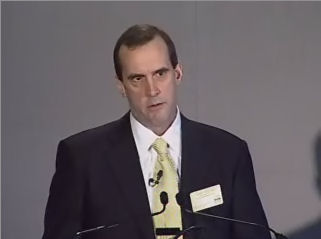 AMD President and Chief Operating Officer Dirk Meyer, in a speech to analysts December 13, 2007.
As if that weren't enough of a problem for the company, a disclosure made to the US Securities and Exchange Commission earlier this week formally stated AMD has determined it paid too much for graphics card manufacturer ATI. At the time of last year's acquisition, AMD stated its evaluation of ATI's total value was $5.6 billion. But that included what acquiring companies typically call goodwill, which quite literally is an estimated amount of what the acquirer feels the acquired entity would add to it over and above its assessed capital value.
At that time, AMD said the goodwill ATI brought to the company would amount to $3.2 billion. Now, AMD is saying it will have to take a one-time write-down charge, effectively wiping some if not all of that value off of the company's books, in a move that cannot possibly please shareholders. AMD share value on the New York Stock Exchange dove at the time the news hit the street, and that value continued to plummet this morning, now down as much as 44% over a peak reached less than a month ago.
But if there seems to be a gloomy situation going around, then perhaps the problem lies with you. At least, that's what Dirk Meyer told analysts this morning.
"You know, there's times in your life where you feel that the perspective of those around you is quite a bit different than the perspective that you have yourself," he started out. "And you sit back and you think about it and you observe that maybe some of the folks around you aren't taking the time to see everything that you see, or maybe aren't motivated to see everything that you see. And I tell you, now is one of those times for me, for [CEO] Hector [Ruiz], and for the 16,000 employees that we have around the world at AMD.
"We've done a lot of things very well at AMD since Q1," Meyer continued, "and we've done one thing very poorly. Namely, we haven't delivered our quad-core products consistent with our plan. In fact, last month, while we were in the final stages of system validation, we uncovered a design error which is sensitized under very obscure operating conditions. We understand this design error, we've implemented the fix, the manufacturing lines are running again. But we have delayed general availability of our Barcelona server product until next quarter."
Everything else at AMD besides this process flaw, and besides the other unnamed write-down Meyer hinted at only mildly but did not mention specifically, is just fine, he said. But the market should stop judging AMD based on the performance of its products.
"You might ask, how have we made all this progress without having a quad-core product in the market?" Meyer continued. "Because again, as I've told you, the prevailing wisdom is wrong. The lion's share of the market opportunity isn't looking for the highest-performance CPU. They're looking for value, energy efficiency, a great visual performance, and affordable Internet connectivity. And we're delivering all those things to the market.
"Have we given up on the CPU performance crown? Absolutely not," he emphasized. "Hey look, we know exactly what the issues are with the quad-core, we know how to fix them, and we're hell-bent on getting those fixes into the market as soon as possible."
After that fire's put out, though, AMD's restructuring will probably take a toll on its R&D division. Since performance is no longer a top priority, the company will be focusing its efforts on squeezing every bit of value out of what it can produce, which includes CPU production at the 65 nm node -- a level which competitor Intel has already transitioned away from.
"We're going to slow down that pace of growth [in R&D]," COO Meyer said, "and focus increasingly on the efficiency of our R&D operations as opposed to just simply the capacity of our R&D operations."
That slimming down will help the company refocus its strategy, he concluded, on delivering what he called "compelling performance and value" to the mainstream computer buyer, while restoring all three of AMD's departments -- CPU, chipset, and graphics -- back to profitability. AMD has gotten lean and mean before to face its key competitor, but this time the trimming down is revealing some bare bones, and both investors and customers may have serious reasons to worry.