Mozilla releases Firefox 3.0 Beta 2, new features premiere

The next version of the world's most popular alternative Web browser is taking shape, with a more stable Beta 2 released yesterday. Added to the feature set are some new conveniences you may wonder how you managed to do without.
Until recently, test versions for the next edition of Firefox -- codenamed "Gran Paradiso" -- have been interesting but not altogether stable, which isn't surprising for builds that were clearly labeled "alpha." But yesterday, Mozilla sprung the trap on the Beta 2 release of Firefox 3.0, and early on, BetaNews noticed the improvements the organization had long been promising now appear to be working more solidly.
Unlike Microsoft's Internet Explorer 7, which shuffled the locations of features and buttons around faster than Bud Abbott playing the old shell game with Lou Costello, Firefox 3.0 looks pretty much the same as it did before. So the changes are subtle, then when you find them, they become profound.
One simple change that we'll certainly come to appreciate has to do with passwords. If you're a regular Firefox user, then by now, you're familiar with logging on with a username and password, and then being asked whether you want Firefox to remember that password...before it actually posts your data to see if you log on. Well, now that's been fixed.
---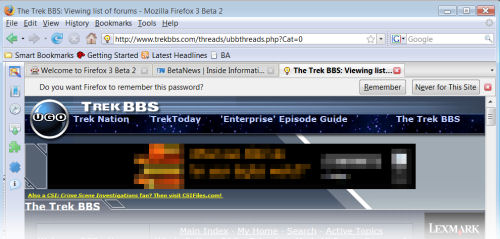 ---
In Firefox 3.0 Beta 2, you'll notice that an IE-like "information bar" takes the place of the old alert box, only it now appears after you're successfully logged on. You click Remember, the bar goes away, and your validated password gets remembered. (In this screenshot, along the left side of the window, note the presence of an upgraded version of the All-in-One Sidebar, which is a third-party gadget for Firefox and not a Mozilla product.)
The new address bar has some subtle but curious improvements. For instance, notice the page icon beside the URL now looks more like a button. Like always, you can drag and drop it someplace to create a shortcut. But now, clicking on it reveals a panel with authentication and identity information for the Web site, if it has a certificate that validates the site. This is one way you can now check to certify if a site is what it says it is...and here's where BetaNews makes a note to itself to get our own certificate problem taken care of.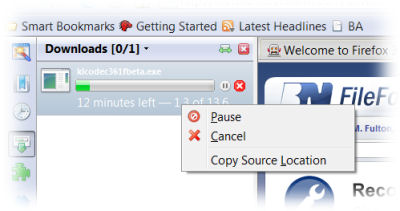 Next, you'll find some improvements to Firefox's download manager. For instance, beside each download in progress, there's now an independent pause and a stop button. And when you right-click on a download entry, you can copy the URL from which the download is originating to the clipboard. This is often different from the page you're looking at in the browser (which is especially the case with FileForum downloads).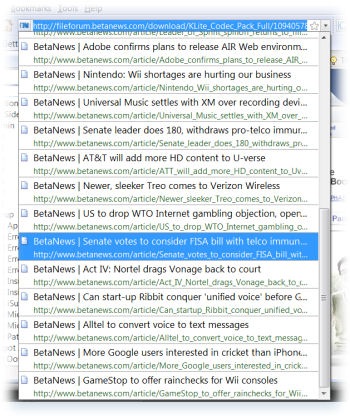 Finally, many Web users can't possibly remember what content was on any number of a hundred or so pages based on their URL. Typically, that makes the history recall feature of the typical address bar gadget quite useless.
At last, Mozilla has addressed this problem by organizing the contents of remembered pages not by their URLs only, but by their title bar contents first. In this particular case, our test browser obviously was being used by someone with a one-track mind, but you get the picture.
BetaNews FileForum has a direct link to the latest Firefox betas now, for Windows XP and Vista, for Linux, and for Mac OS X.