Intel keynote includes first live virtual concert

Late '90s rockers Smashmouth became the first band ever to perform live from multiple locations using a P2P hookup, involving Intel hardware and some intriguing software from its partners.
In a keynote focused on the potential value of a "personal Internet" and thusly connected devices, the second half of Intel CEO Paul Otellini's speech at CES on Monday evening showed off some of those possibilities, with the help of a well-connected group of musicians.
eJammingAudiio is a piece of software that allows musicians to rehearse, write, and even perform together live regardless of location. In a window similar to a Skype conference call, eJamming delivers a P2P connection with low enough latency to mimic live rehearsal.
Steve Harwell, lead singer of Smashmouth, was "pulled from the audience" to demonstrate the system with his bandmates logged in remotely. The technology is enough to get work done for bands without mutual a physical space to practice. While acoustic drums would pose the problem of effective multiple mic'ing, it sounded like Smashmouth was utilizing a MIDI kit to bypass this. Harwell sang over the live feed of his band rehearsing.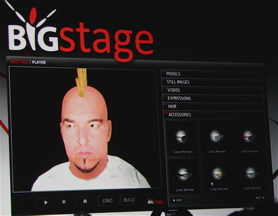 To turn this jamming and practice software into an actual performance, Otellini enlisted the help of Bigstage, a technology that can render realistic avatars from three ostensibly consumer-grade camera shots. Harwell was turned into a mohawked, sneering biker avatar for still pictures. But then, through a professional motion-capture booth, he joined his virtual bandmates in a stylization of his own garage.
Though such a performance currently requires hardware out of the price range of even the most famous musicians -- Harwell said he'd switch jobs with Otellini in a second -- Intel hopes that as technology grows, and chips shrink, such tools will become commonplace.