Panel: Ads are more powerful for promoting artists than their own music

At an all-day Billboard Magazine event, the day's first speakers argued that background music has the potential to do more for an artist's popularity than major label promotions, radio, and dedicated video airplay.
Billboard Magazine hosted today an all-day event consisting of discussions with prominent figures in the music industry, marking the first time digital music content providers have had their own forum at CES.
The day began with Gregg Latterman of Aware Records and Billboard Magazine's Editorial Director Tamara Conniff chatting about the changing role of the record label in an industry that has been seeing a consistent decline in profitability in certain sectors.
Latterman began by noting the downsizing of record labels that has been taking place on a daily basis. Certain labels, he said, have laid off six-figure salary earners as recently as yesterday. But he maintains his belief that the label is still the primary resource for an artist who wants to reach millions.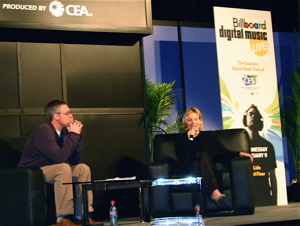 But not millions of dollars. As manager of popular band The Fray, he said that today, a five-person band could consistently sell out 150,000 seat venues and still not earn enough to survive. This is attributable to a phenomenon referred to as the music industry's "long tail."
The "long tail" in question refers to a graph of earnings that begins at the left with the highest-earning acts, and drops quite rapidly to a long line that represents the huge number of artists who earn very little.
Conniff said that the days are gone when a record label could pull an artist from the tail of the graph and put them at the peak by writing a million dollar check. More to the point, the days are almost gone when a label can write a million dollar check at all. The methods for popularizing artists and driving sales have changed, and do not rely as heavily on the record label's checks or radio play.
Sara Bareilles is one example of this change. Because of her appearance in a Rhapsody commercial, sales of her recordings on iTunes skyrocketed. A single commercial took an artist from virtual obscurity to the desktops and iPods of millions. Latterman said that a single "music by" blurb at the end of a television show, commercial, or video game has the potential to single-handedly multiply an artist's audience by a factor of ten. In this case, it was the artist's fantastic iTunes sales generated by the commercial appearance that actually got her airplay on terrestrial radio.
This makes one wonder who benefited more from the commercial: the product itself, or the product's spokesperson?