Aesthetics plus noise cancellation make the Jawbone headset stand out

More handsets today are Bluetooth-enabled, with the result being that there is now a burgeoning side-market for Bluetooth-oriented devices. Headsets today range from as low as $30 to more than $125, with each model having different features and comfort levels.
Even though we walked the show floor and were offered the opportunity to test various Bluetooth headsets, Aliph's Jawbone headset really caught our attention. Instead of just recycling similar ideas and giving users a "new" headset, Aliph's technology was designed for use by the Defense Advanced Research Projects Agency (DARPA).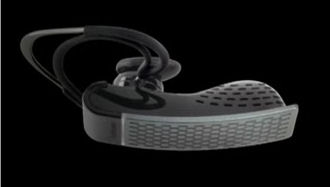 Designers discovered a method to have the headset determine when the user is speaking, which helps limit the transmission of background noise and other distractions. The DARPA-influenced technology uses sensors and software to ensure a conversation is ideal. A non-augmented demo of Jawbone's sound quality and nearly unbelievable noise-cancelling ability in extremely loud circumstances is now available online.
Aliph is so optimistic about its product that it invited CES attendees to donate their old Bluetooth headsets, which are for charity, in exchange for a Jawbone charged and ready to go. The clever marketing ploy allowed previous Bluetooth owners to possibly exchange their ancient receiver for a newer, possibly better product.
"We think users will be able to use this technology and absolutely love it," said Michael Williams, Aliph's director of product marketing. "Especially the subtraction of distracting noise, like if you're in a crowded room and don't want all the background noise, our product eliminates that."
Aliph has been producing noise-cancelling equipment in one form or another since 1999, but expect a renewed interest in Jawbone from consumers who never had the opportunity to test it before. It has both fashionability, looking like no other Bluetooth headset on the market, as well as a very practical value proposition.
After using the Jawbone around the show, in just about every non-combat zone situation possible, I admit it is better than almost all other Bluetooth headsets I've tried in the past. The only problem I had was it took a long time for me to sync the device to my mobile phone, even though syncing never was a problem for other headsets.
The San Francisco-based company's Jawbone product is available now from AT&T, Best Buy, and Apple Stores for $119.99.