Interview: Universal EVP Ken Graffeo says HD DVD is here to stay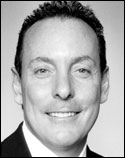 In an exclusive interview with BetaNews, Ken Graffeo, executive vice president for Universal Studios and also the co-president of HD DVD, provided a behind-the-scenes look at the high-def industry and said that, despite the rumors, HD DVD is here to stay. But he does leave the door open to ending the format war by coming to some sort of an agreement with Blu-ray.
Nate Mook: Let's start with a little background. You work for Universal, but you are also the co-president of the HD DVD Promotional Group. Does this create a conflict of interest?
Ken Graffeo: I am the executive vice president of high-def strategic marketing. So my role at Universal is in the high-def format, and being that we're in HD DVD exclusively, that's where I'm concentrated. We setup the Promotional Group in the early summer of 2006, and board members include Microsoft, Toshiba, HP, Intel, Paramount, Universal and Warner Bros. It's very similar to the Blu-ray Disc Association -- we have committees and our goal is to work together educating the consumer and our retailers on the format.
Nate Mook: How does it change things in the Promotional Group now that Warner Bros. has stated its intention to go Blu-ray exclusive once its contract obligations end?
Ken Graffeo: Well, we heard about the whole move when everyone else did -- when a lot of us were on planes flying to CES in Las Vegas. To be very honest with you, we have not addressed that yet -- Warner is still releasing HD DVD titles up until May. Warner has always been in two formats, and prior to Paramount's switch, they had been in two formats, so now that Warner is exclusive... we just haven't addressed it yet.
NM: There was a lot of surprise when you canceled the CES press conference and meetings after Warner jumped ship. It appeared to many that you were simply giving up. Two weeks after the fact, do you regret canceling everything?
KG: It's very easy to look back and say "I could have" because you always know the result. But at the time... imagine the orchestration of a press event with the presenters, the scripts, the entire presentation, videos that were produced -- everything. The crew was already setting up and we were on a plane on Friday, so not being able to get back to everyone to say "how do we make a change for Sunday" was very difficult. And what are the answers? We had no idea because we were reading and hearing about Warner's move the same time everyone else was.
If we had our press event on Monday, it would have been different, but because it was right there on Sunday and we heard Friday afternoon we couldn't even get to everybody. If I had to go back, it was probably the right thing to do. The entire flow of the presentation would have had to been changed. When we found out at the last minute, we had to regroup and say "Toshiba, what are you doing?" and we didn't have any answers. I hate to stand in front of someone and say I don't have an answer, I don't know what's going on.
At that time, not knowing and being so last minute, we had to make some changes. I will say that Toshiba went forward with their press event, which I applaud them for.
NM: After Warner essentially stabbed you in the back, speculation was rampant that Universal and Paramount would do the same, effectively killing HD DVD. There was also a lot of talk about the phrase "current" being used in the statements. Where does Universal stand on this -- are you willing to say you have an ongoing, future commitment?
KG: First of all, I want to say that none of those rumors were substantiated. Nobody ever talked to us. I know nobody talked to Paramount because Brenda, their PR person, sent out a statement immediately. This is business as usual for us and there are no plans to make any changes. We just made an announcement of our new HD DVD titles yesterday, with American Gangster. We also have a lot of other things planned. It's business as usual.
NM: Sony claims that the PS3 has given Blu-ray the market lead -- is this just posturing so Blu-ray can tout higher sales numbers? Is the PS3 really seen in Hollywood as a device that sells movies?
KG: I'll go back to what we've said over and over: the set-top player is the primary movie device. If you look at the attach rate of how many movies are bought for dedicated HD DVD players versus how many movies were sold for the PS3 and the Blu-ray set-top players combined, it's a 4 to 1 gap. Which says that people who own game machines are not buying at the same rate as someone who owns a set-top. And on the DVD side, your primary player is a set-top.
If you go to a store -- let's say a Best Buy or a Circuit City -- and buy an HDTV and then you want to get your movies to look better, you go to the DVD section -- you don't go to the game section. We have always been believers, not only historically but looking at a lot of recent research that has been done, that for the consumer their preference is a set-top.
The one thing that's different now compared with VHS is that when you bought a DVD player, you could not play your VHS on it. People didn't really have libraries in the days of VHS, because movies were really rented -- 80% of the business was rental. Today it's different because both Blu-ray and HD DVD are backwards compatible, so you have to take that into consideration. In turn, people want a set-top player that lets them play their current movies just as they do now, not on a game console.
NM: Price seems to be the major leverage HD DVD has, even with less studios than Blu-ray. Do you still believe other studios will come around if you sell enough players? This was the belief when we spoke to Microsoft's Kevin Collins 8 months ago.
KG: I can't speak for the other studios, because I don't know how they are thinking. But what was very encouraging is that when we were at CES we met with a lot of retailers. And the retailers openly said, that as much as they hate having two formats they are not making any changes, because they want to wait for what the consumer does. We've always said we want to follow the consumer.
Consumers right now are buying upconverting players -- they are outselling the next-gen players combined by 10 to 1 every month. They are affordable because they are under $200 -- the average price is $85 -- and consumers want to see their movies better. So pricing is very important. We saw that on DVD: as soon as price point went under $200 and as soon as it started getting close to $100 players really started taking off because you're hitting very consumer-friendly prices. If you want to hit the mass market, you have to be consumer-friendly in price. If you want to be a niche electronic, you're going to be high priced.
NM: From a strictly consumer standpoint, HD DVD seems to make the most sense: players are cheaper, combination discs are possible, which enables a smooth transition. Blu-ray players are still in flux and current models except the PS3 won't be upgradable to Profile 2.0. Blu-ray is pitching players that will be obsolete in a year, and discs that lack the interactivity found on HD DVD. Why hasn't there been more of a marketing message on this from HD DVD?
KG: The consumer today is very confused about HD. Only 12% of all households are getting HD programming, but 35% of households have HDTVs. We have spent a lot of time, and will continue to try to educate the consumer because there's a lot of confusion on what this means. When you're watching a TV show and the logo says in high definition and you don't have your source for high definition, it further adds to the confusion. People don't understand this.
People have a library of DVDs, people understand HD and know it looks better. But they're not thinking about it from a format perspective, they are thinking "I want my movies in high-def."
I think education has been very important and is something we have to continue doing. In Toshiba's recent press release, they said they will have an aggressive marketing campaign that will be launched very soon that will complement their new pricing strategy.
Next: Steve Jobs says the future is in digital delivery, but will people give up their physical discs? And Ken talks about the potential for unifying the dueling HD formats.