The first Garmin phone pairs location with connectivity

Consumer GPS company Garmin has announced for the third quarter of 2008, its first entry into the cellular handset market: the nuvifone (with a small "n").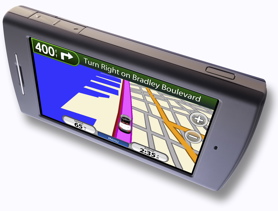 It's Garmin's first entry into the broader smart communications device market, adding mobile Web browsing, data connectivity, and personal messaging to the company's trademark personal navigation functions.
Users of other Garmin products will immediately recognize the user interface, which upon powering up, shows three icons: "Call," "Search," and "View Map." This is similar in nature to Garmin's "Where to?" and "View Map" screen found on many of its other popular nuvi devices.
The Nuvifone appears to be most at home while docked in a vehicle. There, it defaults into GPS mode, activates the navigation menu, and switches to hands-free calling.
Pre-loaded with maps and points of interest in North America and Europe, the nuvifone accepts searches for location by name, address, or category. It is also Garmin's first device to include Google local search capability, which utilizes rich Internet location data such as user reviews and ratings. Real-time traffic, fuel prices, weather conditions and more information are also featured with the Garmin Online service.
There's also an intriguing entertainment function: Its camera automatically geo-tags photos with latitude and longitude reference coordinates, which can then be shared through Google's Panoramio. Searching through photos on the site offers users a better idea of unfamiliar locations.
Though there is no carrier yet announced for the nuvifone, Garmin's device is already the buzz of the gadget community today. The company will be showing it off at 3GSM in Barcelona, Spain on February 11.