Live from the MIX 08 keynote with Ray Ozzie, IE8, Silverlight 2

FROM MIX 08 We're in Las Vegas for Microsoft's third annual MIX 08 conference, where the Redmond company is expected to provide the first look at Internet Explorer 8. Read on as we cover the opening keynote with Ray Ozzie as it happens.
9:30am PT - The keynote is set to begin momentarily. Ray Ozzie takes the stage, makes a joke about Yahoo.
9:32am PT - "I see MIX as the first of a series of launch milestones." Ozzie says this will culminate at PDC this fall, in which its software plus services vision will come alive.
9:34am PT - Two main themes going on at Microsoft now: "Things we do to deeply embrace advertising" and "the Internet is reshaping and transforming Microsoft's existing products and services across the board."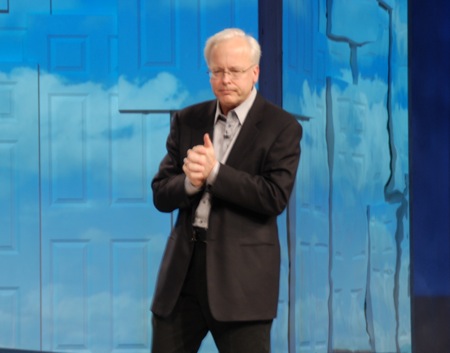 9:38am PT - Ozzie says Microsoft is putting a lot of resources into search and content. If you're wondering why we're so interested in Yahoo, with its creative products and creative people. I hope this makes it clear to you.
The Web is the key, which will serve as the hub, Ozzie says."Linking, sharing and tagging on the Internet" will become as natural as working with files on the desktop.
9:40am PT - "The personal computer will give way to a personal connection of connected devices." Applications will need to be re-factored for this new world. Apps will take advantage of the unique strengths of each device. New front end development skills will be required, Ozzie says, along with back-end technologies.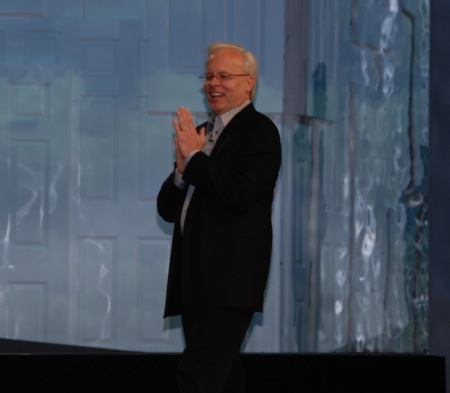 9:45am PT -First scenario Microsoft is working on: We've had a team of Microsoft working on how to bring together all your PCs into a single mesh using the Web as a single hub. Ozzie says this is a new software and service, that the company will show off at MIX, but doesn't provide more details.
Second scenario: We expect each individual to have a media centric or game centric presence.
Third scenario: Office for the desktop, Office for Windows Mobile and Office Live for the Web. "We've begun to realize this vision with Office Live Workspace, which went into beta yesterday." Office LIve will be the center of this strategy, Ozzie says.
Fourth scenario Microsoft is working on: Enterprise. Microsoft says the future is in utility computing, in which businesses and eventually consumers will use computers on demand in "the cloud." Fifth scenario is business services around BizTalk and SQL Server 2008.
Ozzie says he knows developers have a lot of technologies to choose from, but he asks them to pick Microsoft.
9:53am PT - Scott Guthrie takes the stage. He's recapping the launch event from last week, where Microsoft released .NET 3.5, Visual Studio 2008, IIS7 and Windows Server 2008. Moving forward, Microsoft will release ASP.NET MVC, ASP.NET AJAX.
A model-view-controller (MVC) system gives you the ability to see the data in a large database in the context of the user rather than the Web administrator.
9:56am PT - Dean Hachamovitch is invited on stage to show off Internet Explorer 8. "We're going to talk about 8 things."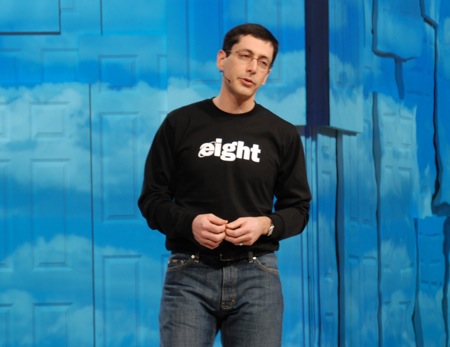 CSS 2.1 will be in IE8. Start of HTML 5 support will also be in IE8.
"Differences between browsers simply waste too much time." Hachamovitch is showing off problems with IE7 compared to Firefox and Safari. Shows how IE8 fixes them. "We're far from done."
Microsoft has made 702 test suites available to the W3C for standards interpretation.
10:00am PT - "There's another challenge: legacy sites." Hachamovitch is showing how IE8 will break sites designed specifically for IE6 and IE7. Earlier this week, Microsoft announced that by default IE8 will interpret Web sites with strict adherence to Web standards. Hachamovitch says this is the best thing for the Web.
The Beta of IE8 will have an "Emulate iE7" button for developers, which switches back to the "quirks" mode.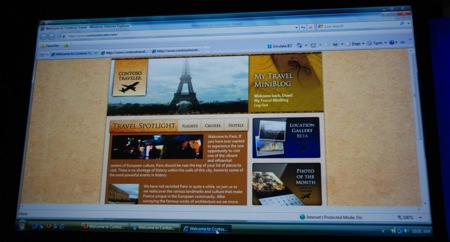 Internet Explorer 8 in action
10:05am PT - Hachamovitch says performance has been vastly improved. Still not quite as good as Safari and Firefox in some tests, but Microsoft isn't done yet.
The Back button will now work with AJAX Web applications. This is a new feature in IE8. Another new feature is how the browser can detect and warn users when it loses Internet connectivity, which will break an AJAX site.
10:10am PT - New developer tools make debugging much easier for IE8. Hachamovitch is demoing this now. This is similar to Firebug in Firefox.
10:15am PT - In IE8 users can subscribe to parts of Web pages, called WebSlices. Hachamovitch shows off a Web Slice for an eBay auction and Facebook page. Users can quickly track their auctions and Facebook status updates.
"The site developer added just a little bit of markup. It's very simple, very lightweight markup. No add-ins, no complexity, no need to create an RSS feed." This feature is very similar to WebClips in Safari.
The WebSlices specification will be published and Microsoft will be taking feedback on it.
10:19am PT - Internet Explorer 8 Beta 1 "for developers" will be available shortly from: microsoft.com/ie/ie8
10:20am PT - Scott Guthrie is back on stage to talk about Silverlight 2.0. Our strategy with Silverlight 1.0 was to partner with third party sites to help drive deployment. "We've seen a steady increase of Silverlight downloads each day."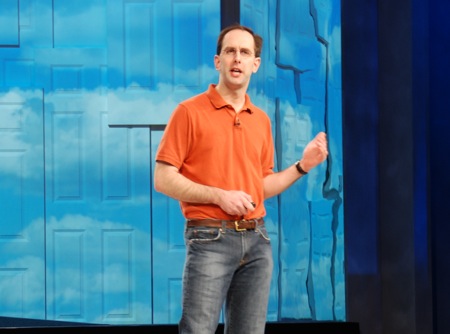 Over 1.5 million installations of Silverlight happen each day, Guthrie says, highlighting the progress in adoption. Microsoft faces an uphill battle again Adobe's Flash.
Silverlight 2.0 Beta 1 is available for download as of today. It will enable media scenarios, mobile scenarios. 2.0 will be offered for Windows, Mac, Linux and mobile devices.
"Adaptive Streaming" will be integrated into Silverlight 2.0. It will check the device performance and bandwidth, and pick the appropriate bitrate. it can also switch between different bitrates when performance changes. This will happen without buffering, and developers need to write no code for this, Guthrie says.
10:26am PT - Microsoft is partnering with Move Networks, who will use Silverlight 2.0. Move Networks offers a publishing system for encoding and streaming video on the Web. Guthrie says the total cost using Silverlight is less with version 2.0.
Silverlight 2.0 and IIS7 will enable developers to throttle bitrates. This will make it so providers won't have to pay for a full video if the user stops watching it. For example, the stream can be set to only be 10 seconds ahead of the current point in the video being watched.
10:30am PT - Demo on integrating Silverlight into a Web site with Jon Harris, senior product manager for Expression. Expression is Microsoft's suite of tools for the development of Web applications and sites.
Harris is using Expression Blend 2.5 March 2008 preview, which will be available starting today along with the rest of Expression 2 Beta. He is showing how you can build a rich advertisement with Silverlight.
10:40am PT - Guthrie has invited Ari Paparo, VP of advertiser products at DoubleClick to discuss supporting Silverlight in DoubleClick's advertising system. It should be noted that Google is in the process of acquiring DoubleClick. Paparo is demoing the use of Silverlight 2.0 with DoubleClick InStream, the companies video advertising solution.
10:47am PT - Guthrie has invited Perkins Miller, senior vice president for NBC Sports & Olympics. They are showing off the Silverlight-based Web site for the Beijing 2008 Olympics. Microsoft previously announced it partnered with NBC to deliver streaming video for the Olympics using Silverlight.
2200 hours and 25 sports will be watchable live for 17 days. That content will then be made available on-demand. Miller says this is why they picked Silverlight over competitors like Flash or Apple's QuickTime. He is demoing what the Web site will look like -- very impressive with picture-in-picture, live data and companion information. Full-screen live video, clips, and community features will be offered.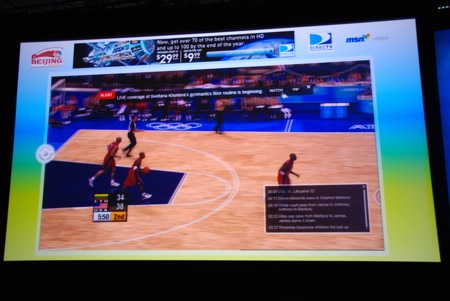 Commercials will be integrated into the Web video. "It's seemless, it's integrated, it's not obtrusive in any day," Miller claims.
10:55am PT - Guthrie: Silverlight 2 is more than just media; you can now build Silverlight applications using any .NET language. A subset of the WPF UI framework will be offered, along with new networking features, and integrated data support. Silverlight can cache information on the client.
Silverlight 2.0 controls will be made available from Microsoft and third parties. Microsoft's controls are being offered with an open source license. A testing framework will also be shipping today, Guthrie says. "Having a controls framework is very powerful because you get a lot of functionality right out of the box." All controls will be completely skinnable.
11:03am PT - Silverlight Tools for Visual Studio 2008 and Microsoft Expression will ship today in beta. Guthrie says "apps speak a lot louder than words" and begins a demo of Silverlight 2.0 Beta 1 applications. First demo is the new AOL Mail client.
11:05am PT - New AOL Mail looks very similar to current client, but leverages Silverlight 2.0. Performance is vastly improved. "2 to 3 times faster than our AJAX application" says AOL's Eric Hoffman.
11:10am PT - Scott Guthrie has invited Hard Rock on stage to show off the "Deep Zoom" feature of Silverlight 2.0. The Hard Rock collection takes up 2 billion pixels, which can instantly be navigated via zooming.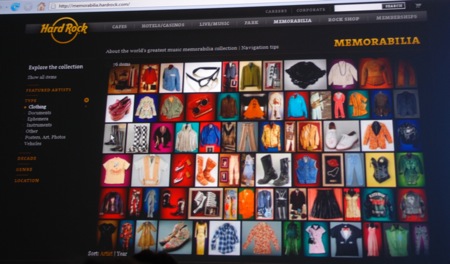 11:20am PT - Aston Martin is demoing the Deep Zoom technology in Silverlight with an online car configurator.
11:25am PT - Scott Guthrie: Everything we've shown today can be done using Silverlight 2.0 Beta 1. We've made no special builds or bug fixes for these examples. Cirque Du Soleil was invited on stage to demo an HR application built in Silverlight 2.0, showcasing the business side of the technology.
11:38am PT - Microsoft has improved the performance of the Windows Presentation Foundation. This means very complex graphics will use less CPU. The WPF update will come this summer through a service update to .NET 3.5, Guthrie says.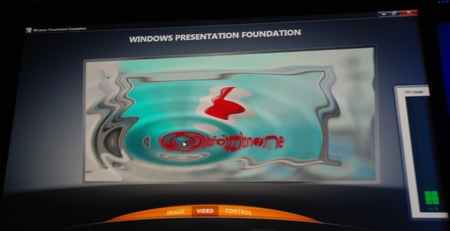 11:47am PT - Guthrie: "What we're trying to do is get Silverlight installed on as many mobile devices as possible." Nokia will deliver Silverlight on S60 and S40 phones. This news was announced yesterday before MIX actually began.
11:50am PT - Tamir Melamed from WeatherBug has been invited onstage to demo the first Silverlight application running on a Nokia Series 60 device. "We tried to do this in Flash and other technologies and we couldn't. We did all this in just 3 weeks," said Melamed.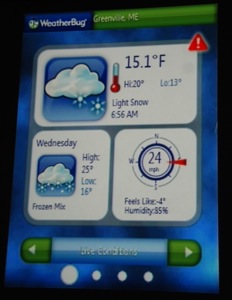 11:58am PT - Keynote concludes.