Richer AOL Mail demoed with Silverlight 2 Beta 1

FROM MIX 08 - In a sign that major Web services, after studying their options, are moving into the Silverlight camp, an AOL development team appeared in Las Vegas today to show off its latest take on online services using Microsoft's rich development environment.
During the opening session of Microsoft's MIX '08 convention in Las Vegas, AOL's vice president for e-mail, Roy Ben-Yoseph, led a team demonstrating a new version of its Web-based e-mail client, with significantly enhanced functionality by virtue of using Silverlight 2, the latest test version of Microsoft's graphical runtime platform. The Beta 1 runtime was posted just this afternoon, along with the Beta 1 toolkit, which requires Visual Studio 2008.
Though the application remained browser-based (theoretically, it could run outside of browsers using Silverlight), the AOL Mail test app exhibited much faster responses and much greater receptivity to user events, including resizing of panes and dragging and dropping. But perhaps most importantly for AOL, Ben-Yoseph showed, the Mail app could be customized not only by the user but by the server.
As an example, the team demoed an e-mail client completely skinned with a Halo 3 motif. It was more than just a skin job: A full-motion video of the game was running in the background, and that background was partly visible through semi-transparent editing windows.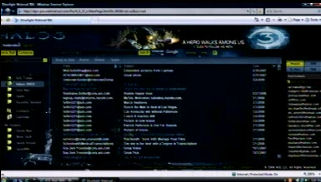 The faster run time, the AOL team explained, was by virtue of using features such as intelligent caching, where the client's local memory can be allocated for storing data in a manner similar to a local application. AJAX has similar functionality, though arguably it runs under tighter restrictions as a scripting language within a Web browser; Silverlight has the virtue of being a platform extension.
"You can tell it feels rich," said Ben-Yoseph at one point, "like something you want to use."
The tone of the demo did not suggest that AOL would be replacing its Web-mail client entirely with the Silverlight version, rather that the company may offer the richer version as an option over its default AJAX version, and that special branded services would also be offering the Silverlight-driven version in the future. He was sure to point out the potential benefits of "tight advertising integration," which would certainly help monetize any online service's development efforts.
---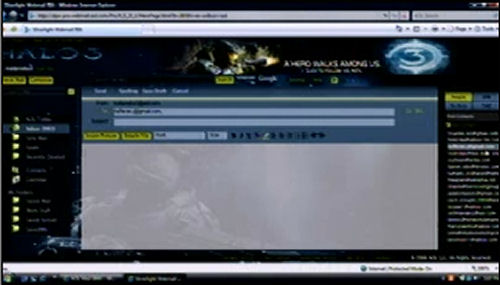 ---
Visual Studio 2008 -- which first shipped last November but was officially "kicked off" last week in Los Angeles -- was designed intentionally to support the Silverlight 2 beta directly. That's important, because the VS environment gives developers graphical access to all the user interface controls in the .NET Framework, and with version 2, all of those controls from Windows Presentation Foundation will now be integrated into Silverlight, using the language of the .NET developer's choice.
"The WPF UI Framework in Silverlight is a compatible subset of the WPF UI Framework features in the full .NET Framework, and enables developers to re-use skills, controls, code and content to build both rich cross browser Web applications, as well as rich desktop Windows applications," wrote the Silverlight team's popular general manager Scott Guthrie, on his team's blog two weeks ago.
In that post, Guthrie built a test browser application that appears to stand alone, whose purpose is to search Digg for links to popular videos, and display them in a list according to user-supplied preferences such as popularity. The test app is shown running in the Safari browser for Mac OS X.
"The Beta 1 release of Silverlight 2 is 4.3 MB in size," wrote Guthrie, "and takes 4-10 seconds to install on a machine that doesn't already have it."