AMD appoints a former Dell exec as CIO

At the most critical time in the company's history, AMD appoints to its CIO role a veteran Dell process engineer who has already made inroads in fine-tuning the manufacturing process -- something AMD desperately needs.
One of the people who helped refine all types of processes at Dell Computer, including both online Web services and manufacturing, has joined AMD this morning as its Chief Information Officer. Ahmed Mahmoud's appointment points to renewed attention on process refinement, which is typically what that company is known for anyway, but which it finds itself doubly concerned with as it works to catch up with Intel in the 45 nm arena.
Mahmoud held many positions at Dell over his 13-year tenure there, including Vice President of IT Global Manufacturing Fulfillment Systems. In other words, he was one of the guys who conceived Dell's strategy for building large systems in a made-to-order market.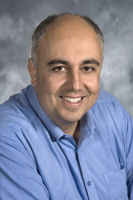 AMD Chief Information Officer Ahmed Mahmoud
At Dell, Mahmoud drove the goal of modeling a viable and efficient manufacturing process for a component, standardizing and optimizing that process to a very granular degree, and then transferring that process to any other plant anywhere else in the world. The concept is called "Global Copy Exact," and it came in handy in 2004 when the company was charged with the task of building a new manufacturing facility in Winston-Salem, North Carolina, and transferring working processes intact from Round Rock, Texas -- a goal the company called internally "from dirt to Dell."
The success of that project helped "Global Copy Exact" to become an oft-repeated phrase among manufacturing businesses everywhere. But that success became overshadowed last year, when Dell Computer's restructuring forced the company to suspend its plan to add to the Winston-Salem plant's workforce, as it had promised the state it would do. In fact, job cuts are still foreseen there...and one job cut has already taken place.
Dell's loss is apparently AMD's gain. Mahmoud replaces Clay Cipione, whose name was attached to a November 2006 Microsoft report (PDF available here) stating Windows Vista would help reduce total cost of ownership in the enterprise by, among other factors, driving down deployment costs by as much as $40 per PC.
"Based solely on these TCO benefits, the TCO study predicts a payback period of 7 months with an internal rate of return of 219 percent," the report read, with facts backed up at the time by Cipione.
Mahmoud will be working in the shadow of Fred Mapp, now retired -- a legendary AMD CIO who still speaks on behalf of the company, a four-decade veteran of process automation, and the current CEO of the World Congress on Information Technology. In a column for AMD's Web site, Mapp wrote, "Too often in IT, technology is the beginning and the end, the be-all and end-all. The quest for technology overwhelms other processes. And if this approach falls short, IT looks ahead to the next release to lead it into the promised land. The truth is this: In IT you must create your own promised land. Technology is only a tool -- a walking stick, if you will -- to help you get to your destination. Yet the best walking stick ever crafted won't find the way for you."
Perhaps Cipione could have benefitted from reading some of Mapp's work. Hopefully Mahmoud has already indulged himself.