New Acer Gemstone notebooks feature NVidia 9-series, Blu-ray options

On the heels of its completed acquisition of the Gateway, eMachines, and Packard Bell brands, Acer celebrated its first US-based gala unveiling this afternoon with two new widescreen multimedia notebooks and a fresh marketing strategy.

NEW YORK CITY (BetaNews) - Blue is the new color for Acer, both in terms of the new holographic logo imprinted on its new notebooks' covers, and their Blu-ray Disc options, as revealed in a gala press event here this afternoon.
"Blue is the color of the sky," said Acer's corporate VP of marketing and brand, Gianpiero Morbello. "Blue is a calm and cool color."
In developing the new high-end notebooks -- the latest to be given the moniker "Gemstone," which the company first tested last year -- Acer used research showing that blue is a color that just about everyone likes, regardless of age and gender.
Acer president Gianfranco Lanci told a room packed full of journalists that, although some people scoffed at his company's aspirations just a few years ago, Acer's PC notebooks now hold market shares ranging from first to fifth in just about every country in on the planet.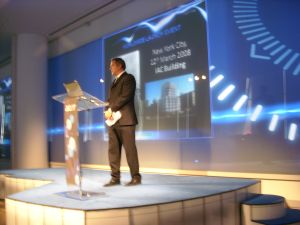 Acer marketing corporate vice president Gianpiero Morbello
There are two new series with buildout options for each. Both will come with 16:9 widescreen displays and Dolby True5.1 surround sound audio. Priced starting at $900, the 16" Aspire 6920 will feature 1366 x 768 resolution, and the 18.4" Aspire 8920 will offer full high-definition (1920 x 1080).
Both series will feature Intel's Centrino Duo technology (formerly code-named "Santa Rosa"), which includes the PM965 Express Chipset and Core 2 Duo processors. On top of that, Acer will add an NVidia 9-series graphics chip -- the GeForce 9500M GS -- as standard equipment, giving them DirectX 10 graphics and Shader Model 4.0 support.
Later this year, 16:9 aspect ratio will become "the standard," said James T. Wong, Acer's senior vice president. "But this is March, and nobody else has anything else like this yet."
---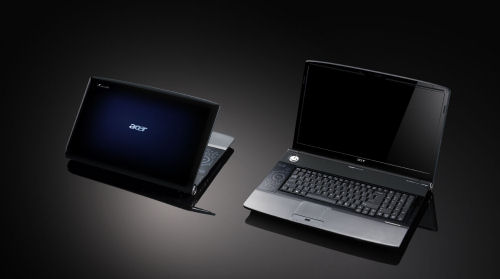 ---
Among consumers' options for both series will be a choice of Super Multi optical drive -- most likely LG's line that reads and writes to all CD and red-laser DVD formats -- or a Blu-ray drive. We don't know yet who makes that drive for Acer, though the company also did not mention any blue-laser burning capabilities, so we can assume its high-definition capabilities are read-only.
Also at the event, officials talked about how they will deliver their multiple PC brands -- Acer, Gateway, Packard Bell, and eMachines -- to consumers and small business markets throughout the world.
---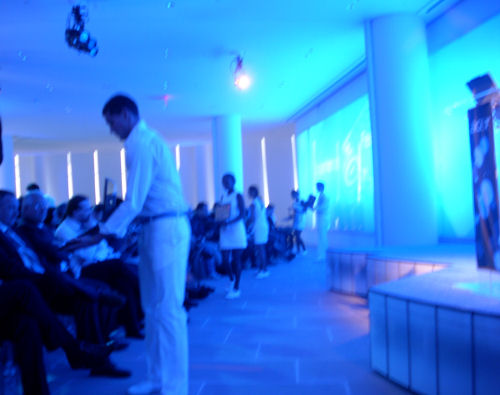 ---
Playing its full hand, Acer plans to sell notebook PCs in the United States under all four of these brands. In Africa and the Middle East, Gateway will only be available in certain countries, but the other three brands will be sold throughout the region. And in Asia, only Acer and eMachines will be available.
Although Acer initiated an acquisition of Gateway back in August of last year, and financial analysts have been treating the two companies as one since Q4 2007, if not earlier, Acer told gatherers at this afternoon's conference that the deal only became final today. In the process of buying Gateway, Acer obtained not just the Gateway brand name, but the eMachines and Packard Bell names, too.
Besides its four-brand arsenal, Acer -- which began life way back in 1976 as Multitech -- also does a hefty OEM business, manufacturing computer equipment for other vendors.
The Taiwan-based vendor does not yet produce any desktop PCs under the Acer brand. So at the press conference today, officials pointed to a need for expertise on the desktop side as one of the chief reasons for buying Gateway.
Right now, the consumer market for notebooks PCs is still growing in the US and almost every other country except Japan, reporters were told. But due to industry projections of a notebook PC slowdown, Acer plans to move into the ultra-mobile device market over the next two or three years.
Yet Acer has no intentions of stepping into the enterprise space, at least in the near future, said Wong.
---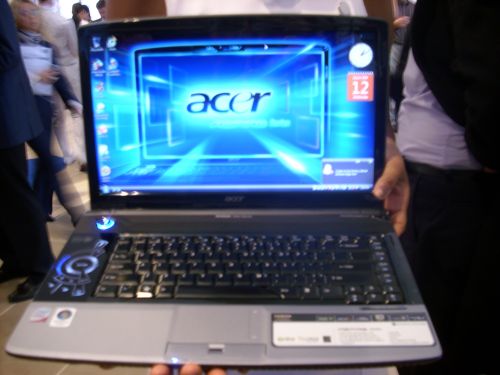 ---
Analysts on hand at the event were largely impressed with Acer's new products and brand strategy.
"That's a lot of computer for $900," John Spooner, a senior analyst at TBR, told BetaNews. He added Acer seems to be positioning its brand name at the top end of its line-up -- above Gateway and Packard Bell -- instead of at the low end, where analysts had expected it to play a role.
Roger L. Kay, president of Endpoint Technologies Associates, suggested that Acer is smart to keep the Gateway, Packard Bell, and eMachines names alive following its acquisitions.
"When one company buys another, what it's really getting is the brand name," the Endpoint analyst told BetaNews.