Yahoo's open platform now has a name and a mascot

If the software industry truly is to transcend the PC level and start an entirely new economy on a Web platform, then it doesn't appear any one player will have an automatic, native advantage. Yahoo is gambling it will be one of those players.
There are four centers of gravity emerging in the complex and semi-defined social Web services field, where the application platform is moved from the local or company network to the Web. The proprietors at these four points include Microsoft, whose Live Mesh concept was given more definition just two days ago. Then there's Adobe, which is constructing a Web services platform around Flash using AIR. Also there is Google, whose tenacity alone is testament to its formidability.
And as of today, we know for certain that the other center of gravity in "open," social Web services will be Yahoo, especially if it continues to render moot the need for a merger with Microsoft.
"We are literally in the process of re-wiring Yahoo from the inside out, to create a development platform at Yahoo that will literally open up all the assets of Yahoo to developers across the Web in a way that we've never done before," stated new Yahoo CTO Ari Balogh, during a keynote speech yesterday at the Web 2.0 conference in San Francisco. "And as part of this, we're going to the consumer experience at Yahoo social throughout, and provide hooks for that for developers to do the same."
All four companies are basing their Web services development platforms in such a way that they feed their respective core strengths. In Yahoo's case, its forthcoming Open Social or Open Strategy platform -- or Y!OS, for short -- all the energy of its willing, volunteer developers for gadgets and inline applications is directed toward its home page, still considered the Web's principal portal. The paint isn't quite dry on the idea, and it's so fresh, it isn't always clear what the "S" stands for.
Without giving too many examples of just what these applications will consist of -- that matter is typically left for us to decide -- Balogh showed attendees how developers will be given sensible, graphical, free tools to generate "mashup" applications. These apps will be geared to respond to certain elements of a Yahoo user's search, and can pop up or in query results pages to offer information that responds to, and hopefully refines, that search.
The query-responsive portion of Y!OS was made available just yesterday, and was given the moniker "SearchMonkey." The beta developer platform is available now from this link (do yourself a favor and avoid "searchmonkey-dot-com," because Yahoo apparently didn't register the domain in time). Currently the company plans a formal launch of this plank of its platform on May 15.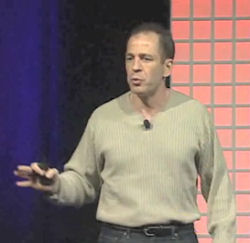 "Later this year, we will be delivering the first version of our Y-Open Strategy Platform [Y!OS], and it will deliver...a social graph, hooks for developers to be able to use that, event-stream feeds (we call it 'Vitality')," stated Balogh yesterday, "and it'll include an application development platform that allows this sort of development and easy deployment."
Another plank of Y!OS will be its underlying social engine, one of whose principal features will be the ability to pull up lists of people associated with a user, in the context of that user's search. As one example, Balogh described a situation where a user who happens to be searching for something related to fantasy sports leagues, is given a list of friends and associates who are part of his fantasy sports circle.
As a pre-emptive strike against conclusions that Yahoo thinks it can try to be the next MySpace, or that the "S" in "Y!OS" stands for "Social" 100% of the time, Balogh told the audience that Yahoo really doesn't have any intentions to take the place of real social networks. Instead, he proposed a vision where Yahoo's social components would merely have a prominent place on its mere 120 billion page views per month.
"I want to be very clear here: We are not creating yet another social network," spelled out Balogh slowly. "We are going to rewire the entire Yahoo experience for consumers to make it social in every dimension. We've experimented with social for awhile, and I'll tell you, at Yahoo, we don't think of 'social' as a destination. We think of 'social' as a dimension, and it infuses every element of the consumer's experience on the Web. It drives relevance, it drives community, it drives 'virality."'