Yahoo beta tests new search results concepts in India

When a query is entered on Yahoo's Glue Pages, search results -- whether text, image, or video -- all turn up on an organized single page. It's an idea that's turning heads, and it's showing up first on Yahoo's Indian domain.
Currently, topics related to health and medicine, sports and entertainment, travel, technology, and finance yield results on these Glue Pages, which entered beta earlier this week.
For example, a search for "world bank" is headed by its Wikipedia definition, and followed by two vertical columns entitled "Answers" ("How did the World Bank emerge?" and "Who are Knight Templars?") and "Images." Beneath that heading, a "YouTube" category provides 3/4 sized video windows pertaining to the World Bank. The left hand column of the page displays traditional search results, including sponsored links.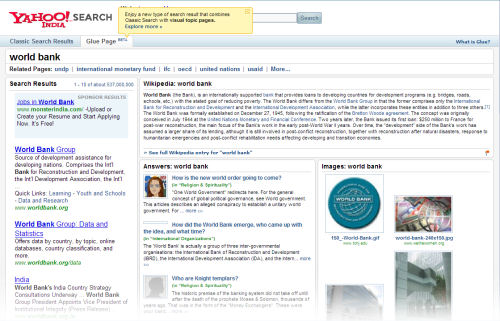 The new results page was developed by Yahoo's Indian team at its key research center in Bangalore. Different sources gave different answers as to the future of Glue Pages. A spokesperson in the United States said there are no plans to bring Glue Pages anywhere outside of India, while Yahoo's senior vice president Tappan Bhat said if the beta is successful, then the pages will be rolled out in other countries. An official Yahoo statement to BetaNews is pending.