RIM's new BlackBerry Bold to rival iPhone on world wireless networks

RIM's just unveiled iPhone competitor, the BlackBerry Bold, looks likely to be available on multiple 3G wireless networks in each of many world markets, a prospect that could potentially impact Apple's policy of setting up exclusive relationships for its own device with carriers such as AT&T for the US and O2 for the UK.
Offering support for high-speed 3G networks, Wi-Fi (802.11/a/b/g), and integrated GPS, the BlackBerry Bold features a glossy metallic look. It also provides much more memory than RIM's current BlackBerry Curve model with 1GB built in. With the Bold, RIM is matching the screen resolution, but not the screen size, of the iPhone.
Like the iPhone, the Bold will support full Web page rendering and sync with iTunes, at least for those with non-DRM music. It features a standard headphone jack and microSD slot for expanding the storage capabilities.
The BlackBerry Bold (formerly known as the 9000), however, isn't available anywhere yet, because RIM hasn't completed the carrier certification process. Pricing hasn't yet been announced, either.
AT&T has been issuing written statements that, in the US market, the BlackBerry Bold will be available on AT&T 3G network first. But according to the Gearlog blog, RIM CEO Mike Lazaridis has confirmed that the Bold will be available for multiple US networks in the near future, in contrast to Apple's exclusivity policy.
Apple holds exclusive relationships for the iPhone with AT&T for the US, with Orange for France, T-Mobile for Germany, and with 02 for the UK.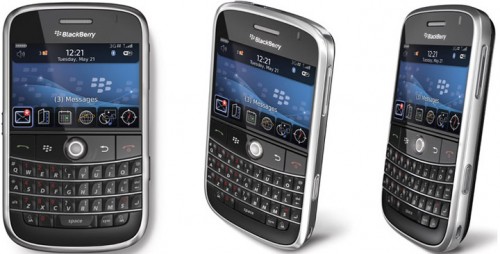 RIM is making other moves meant to improve the BlackBerry's standing versus the iPod and other rivals. In conjunction with the Bold launch, RIM also announced a $150 million BlackBerry Partners Fund with RBC Venture Partners, JLA Ventures, adn Thomson Reuters, focused on investing in Blackberry mobile applications and services.
Meanwhile, RIM and Microsoft announced plans to bring Windows Live Messenger to BlackBerry devices, and to improve integration between Live Hotmail and the BlackBerry software.