Gates demonstrates touch UIs everywhere, including walls and furniture

"Little thin, tablet-like computers" and giant, sensitive walls with interchangeable touch- and pen-based "natural interfaces" are still on the way, said Microsoft Chairman Bill Gates, speaking at a CEO Forum Wednesday.
Microsoft's prototype Touch Wall includes special software plus "some scanning cameras down here at the bottom, so whenever I go up to it and say just touch it, the software will notice that, theoretically," as described by Microsoft's ex-CEO and soon-to-be-retired chairman to an assembly of CEOs at Microsoft headquarters in Redmond, Washington.
"So, in fact, this piece of software has all sorts of information behind it. And typically when we think about information now it's very linear. A PowerPoint presentation is slide-by-slide, and if something happens during the presentation, you want to skip around, that's hard to do," Gates illustrated.
"Here we've got things laid out in this nice two-dimensional form. So, I can zoom in on anything, I can move around. I've got different types of information that I'm using here. And it's all just easy to navigate to, because at any time I can look at different things," he elaborated.
---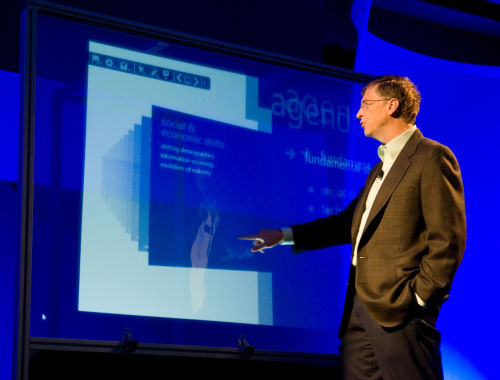 At a CEO summit in Redmond on Wednesday, Microsoft Chairman Bill Gates demonstrates making selections on a prototype 'Touch Wall,' though here - curiously - he seems to be pointing to nothing. (Courtesy Microsoft)
---
"Here I can point, I've got an actual document. This is a Word document. So, I can go and step through this page by page, see different things. If something is interesting, I can blow that up or I can just go back to where I was."
Although Microsoft's prototype Touch Wall is a large vertical display surface, it is kind of similar otherwise to Microsoft Surface, a table-sized horizontal intelligent display first previewed at the same conference a year ago.
Microsoft Surface is now an actual commercial product, Gates reminded attendees: "In fact, a few months ago, we sent out our first units of Microsoft Surface."
"One of the first customers is AT&T for use in their phone stores. And what happens is somebody who's got a phone comes in, puts it down on the table; the software recognizes it, suggests what calling plans they might use, suggests another phone model they might use. When they select that, it shows them comparison, what features it has that that existing phone does not," said Gates.
In fact, the CEO Forum seems to be one of Microsoft's favorite spots for showcasing Microsoft's latest natural interface concepts.
"I've also shown here the RoundTable, which is the videoconferencing thing that takes the entire view, the 360-degree view of everybody in the room by using multiple cameras, and creates that teleconferencing interaction that's far, far better. That's a new type of interaction," continued Gates.
Now emerging on the horizon, he said, are "little thin, tablet-like computers that have both the pen capability and that finger touch...and you'll be able to switch back and forth between those."
Gates told the CEOs he ultimately foresees vertical and horizontal natural interfaces of various sizes appearing almost everywhere.
"This idea that you just sit there and interact, touch, you don't have to learn anything, that naturalness really draws people in. So, it's been a strong success so far, and that form factor is going to get cheaper and smaller," predicted Microsoft's chairman.