Mozilla issues Release Candidate 2 of Firefox 3.0

---
Download Mozilla Firefox 3.0 RC2 for Windows from FileForum now.
---
While Web users everywhere have been anxiously awaiting the arrival of the final edition of Firefox 3.0 -- an event which some thought could happen this very week -- late yesterday, Release Candidate 2 of the browser appeared on Mozilla's FTP site.
Last week, Firefox developers were privately notified that an RC2 release would be necessary in order to address a new slate of bugs detected in RC1. As Mozilla's staff phenomenologist Mike Beltzner wrote last week, that decision was reached by the organization last Tuesday: "Due to the time required to complete some other external dependencies, we don't expect that this will significantly impact our shipping date, and still estimate a mid-June release date."
A quality assurance test for RC2, Beltzner added, is scheduled to be completed tomorrow. At that time, the organization may make available its formal list of changes and fixes between RC1 and RC2.
---

3:00 pm EDT June 4, 2008 - BetaNews tests of Release Candidate 2 show very little cosmetic difference between it and RC1. We did, however, notice the reappearance of two links in the default Bookmarks toolbar after a clean installation -- links that you'd typically find after installing Firefox 2.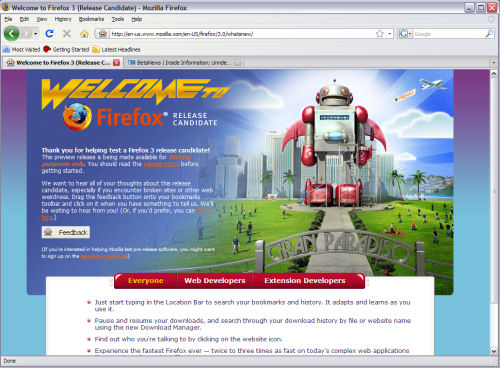 "Getting Started" takes you to the familiar general tutorial page on Mozilla's Web site, which currently still uses graphics from Firefox 2. And "Latest Headlines" reveals a complete RSS news feed, currently provided by BBC News Online. Those items appear beside "Most Visited," which first showed up in 3.0 RC1.
Though few third-party themes have been updated to work with 3.0, Aeon 2.8 is among those that do appear to work with RC2 just fine. It lacks the rocker switch appearance of the Back and Forward buttons in Firefox's new default theme, called "Strata" (originally blue in the early public betas, now green), though its layout appears intact and in order.
Though the official notice of this build's release is scheduled for tomorrow, RC2 is currently downloadable from the specific location where public release candidates are posted, as opposed to nightly builds.
6:00 pm EDT June 4, 2008 - Late this afternoon, a Mozilla spokesperson verified for BetaNews that the build made available ahead of schedule is indeed the approved build of Release Candidate 2. Users are asked not to download the file from Mozilla's FTP site until at least tomorrow; you can, of course, download it from FileForum in the meantime.