Signs of a total rethink of Skype in its 4.0 beta

---
Download Skype 4.0 Beta 1 for Windows from FileForum now.
---
Skype's 4.0 beta has moved away from Instant Messenger style layout consisting of multiple small windows, and has instead opted for a single, full-screen video chat window.
The tabbed "buddy list" window prominent since the very beginning of the product, has been replaced by a simple left-hand toolbar with the contact list as the primary feature, and buttons for "Call Phones," "Directory," and "Shop."
"Call Phones" retains the keypad layout of previous versions, but has a banner across the top listing Skype rates (currently starting at €.017), and now features an SMS button where the "end call" button logically should be.
"Directory" is similar to the Skypefind search engine in prior versions. It is a search engine geared toward finding local businesses within the "what" and "where" criteria, or individuals in the "Find People" category. Like Skypefind, the criteria for searches may currently be a little bit loose and data a bit irregular. The city of Baltimore, for example, yields 100 listings, ranging from a Toyota dealership with a partial address, phone number and user reviews, to a listing simply called "angel" with a cell phone number and one review saying only "sexy."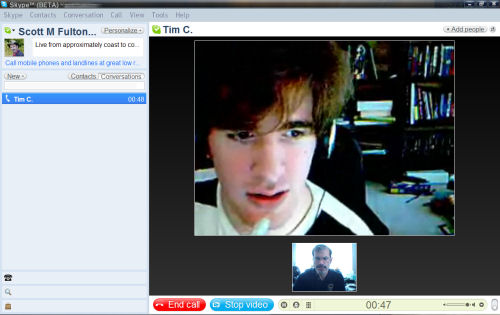 Under Directory are buttons for "Chat Rooms" and "Skype Prime." The latter does not yet work, but the Chat Rooms tab links to the service known as Skypecast beta in previous versions of Skype. Undoubtedly one of the oddest-sounding things that can be done with Skype, these audio chat rooms provide an international platform for cross-linguistic conversations -- complete with full digital artifacting and obnoxiously loud delay and feedback. The result sounds either like a Pink Floyd album or like listening to a dozen separate underwater conversations simultaneously.
The redesign looks to take the emphasis off of simple IM and VoIP calling, and refocus on video conferencing. Audio and video sync are adequate, given the participants are using suitable hardware, but actual audio quality still borders on the sub-par. It is interesting that a system developed essentially around voice calling should have such issues, with less trouble in delivering video.
For practical uses, Skype video chat is still best classified as a novelty. When new conversations invariably take upwards of five minutes just for setup, and the requisite "Can you hear me nows," even the novelty fades rapidly.
SCOTT FULTON, BetaNews:
- I helped conduct our initial Skype 4.0 beta test with Tim, so I thought I'd put in a word.
Skype has historically been one of those products that has hovered somewhere in-between invaluable and, as Tim put it, novelty. It began as a hybrid voice/IM service that uses a P2P infrastructure, and as such, it has been ingenious. But from a functional standpoint up to now, it has insisted on being modeled after instant messaging, as though typing text messages were Skype's principal function, and all this voice -- and later video -- were just add-ons.
Not any more -- at least, not from my initial take of the first Skype 4.0 beta. This is a completely redone product; yes, it uses the Skype communications structure we've all come to know and (not) love. But now the weights of the program seems to be shifting toward where it belongs, as a video and/or audio communications program that uses text chat as an accessory feature -- typically for typing those necessary messages like, "I can't hear you" and "I can't see you."
Now, everything is being moved into one functional window. The focus is no longer on Skype's equivalent of a buddy list, and how great it is that you get to have this huge list in its own window taking up space on your screen. If you're a businessperson rather than a social networking wannabe, having a big list of names taking up space on your screen is not a boost to your ego or morale. Under the new scheme, the users' list is catalogued under "Presence." It helps you quickly determine who's here and who's not. Then when the conferencing begins, it gets out of the way, making room for a bigger display.
It is not a perfectly designed system just yet. For example, in the lower right corner of the screenshot, you'll notice a toggle-switch device whose purpose is to reduce the video display size and make room for that text messaging line. That function is not exactly self-explanatory; there needs to be something more intuitive in place of that switch. And the fact that it's a sliding rocker with intermediate, in-between states, when the text line is either on or off and the switch should be binary, doesn't really make much sense.
It's peculiarities like this one that come up in the first public beta of a completely rethought product, though, and based on what I'm seeing so far, I'm hopeful that Skype can pull off a much-needed reinvention of its very useful public service.