Telus hopes to provide an alternative to high-priced iPhone in Canada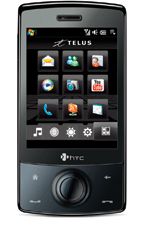 Canada's top wireless mobile phone service provider plans to offer the HTC Touch Diamond phone to its customers later this summer, which will mark the North American premiere of this model.
Telus hopes its so-called "iPhone killer" will be able to help the company compete with Rogers and its 3G iPhone, expected to be released later this week.
Canadian customers will be able to pick up the phone for $149 CAD with a three-year service agreement. A $15 per month fee will offer unlimited e-mail and instant messages, or subscribers can pay $30 per month to have unlimited Internet, e-mail and IMs.
Compare this against the <!article id="1215448322">$60 CAD per month fee Rogers Wireless is offering for its 3G iPhone plan, with just 150 minutes plus unlimited nights and weekends, and 75 outgoing text messages.
The Touch Diamond offers a 2.8" touch screen with a 640 x 480 pixel screen resolution, 3.2 megapixel camera, GPS, Wi-Fi, and Bluetooth 2.0. It measures 102mm x 51mm x 11.5mm and weighs 3.9 ounces -- the thinnest HTC mobile phone yet. But it only has 4 GB of onboard memory -- not 8 or 16 GB like the 3G iPhone -- and does not have a card slot.
On the software side, the phone is powered by Microsoft Windows Mobile 6.1 Professional and utilizes Windows Media Player 10 Mobile, the Opera Web browser (with tabbed browsing for WM6), and Microsoft Office for Mobile -- including Word, Excel, and PowerPoint plus Outlook and OneNote (which are not typically offered).
If an owner is in a meeting or in class when the phone rings, he simply takes it out of his pocket and turns it upside down for the phone to automatically silence itself. The accelerometer is also leveraged to help zoom and use similar features while in portrait or landscape mode.
The biggest difference between the Telus HTC Touch Diamond and other versions is that the Telus version will ship with EV-DO Rev A. operating on the CDMA network.
The HTC Touch Diamond is expected to be available in the United States on the T-Mobile GSM network and Verizon Wireless CDMA network in the coming months, where it will compete with Apple iPhone, Samsung Instinct and RIM BlackBerry Bold. Struggling Sprint Nextel, which has seen good success with the Samsung Instinct and Palm Centro, will also offer subscribers the Touch Diamond. HTC plans to market the Touch Diamond in China and several European markets moving forward.