Maybe the sixth time's the charm: Podcast syndicator Odeo relaunches again

After one roller-coaster ride of a start, online media service Odeo has once again relaunched its Web site, this time adding several new features developers hope will finally help it finds its market.
Specifically created to cater to content syndicated by RSS feeds, Odeo presents viewers with a video and audio catalog ranging from boxing and mixed martial arts, to cooking and home gardening videos.
Odeo publicly launched in July 2005, founded by Noah Glass and Evan Williams, who are known as the founders of Audioblog and Pyra Labs. Furthermore, Williams would eventually create Blogger and Twitter. Venture capitalist company Charles River Ventures helped initially fund the company, but Williams ultimately bought out Charles River Ventures' shares of the company before restructuring the company.
In a blog post published in February 2007, even though the site had almost 690,000 unique visitors and more than three million page views, the founders were able to afford to pay for hosting through Google AdSense by itself. With the popularity of Twitter booming, Odeo was temporarily ignored, Williams sought out a buyer for the company. New York company Sonic Mountain stepped forward, acquiring the site for a low price that better enabled it to move forward with future plans.
Further relaunch plans were again scuttled after Sonic Mountain purchased FireAnt, a company that designed a desktop media player and RSS video aggregation web site. But the FireAnt technology has now been implemented into the latest version of the Odeo Web site.
The most recent relaunch was announced in January 2008, and was expected by the end of the first quarter, after suffering several other relaunch setbacks.
The biggest addition to the site's relaunch is the ability to search for video, and explore the half million podcast channels that have both audio and video files. Users also now have the ability to search for content by category or keyword, subscribe to RSS feeds to get updated information, and share content via e-mail. Jumping on the social networking bandwagon, the new site also now lets users create a profile page, recommend content to their friends, receive recommendations, and create public playlists.
Moving forward, Odeo hopes to include mobile device synchronization and a free online tool for podcast makers.
In the early going, Williams made several mistakes -- which he publicly admitted to -- and looks forward to continuing Odeo's development in the future. After first launching Odeo as a podcasting company only with no specialized focus, he realized the site's struggles could be tied to no strong plans for the company aside from podcasting. And since Williams himself was not a podcaster, earlier incarnations of Odeo led to the development of podcasting tools not suitable to what podcasters requested.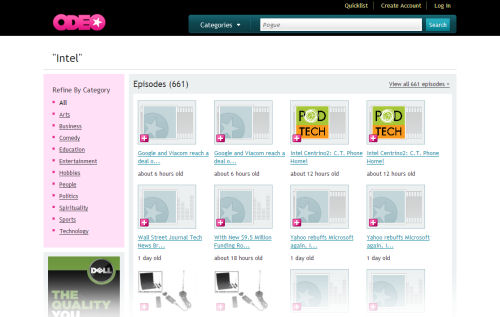 In BetaNews tests this afternoon, we found right away that Odeo's search feature -- supposedly its raison d'etre for this latest incarnation -- could use some serious work. It's simple enough to browse podcasts by category. But the most effective search query in Odeo's current system is one that relates to the title of what you're searching for.
So "Pogue" pulled up material right away, if you're looking for David Pogue podcasts. But if you're looking for something more subjective -- say, some discussion on Intel products, especially today's Centrino 2 platform launch -- what you get in return is bewildering. At the top of the list, there's discussion of the Yahoo + Microsoft business deals, the recent agreements between Comcast and Vonage, and some price quotes (exactly how these qualify as podcasts is baffling) for Pinnacle brand HD cables. Maybe the word Intel is mentioned somewhere in there, maybe it isn't. These are the results we get even though we already found material in Odeo's system relating to Centrino 2, so there's obviously some kinks still in the system.