Mozilla: Tell us how you see the future of Web browsing

With new versions of Firefox adding welcome features but no radical changes to the way people live and work, its producers are wondering whether the general public may have better ideas about Firefox' future than their own engineers.
After the production of a new and not-so-fanciful proof-of-concept video for Mozilla Labs by San Francisco-based software design consultants Adaptive Path, the Mozilla organization has put out an open call for anyone and everyone to create similar videos that could offer glimpses into a future browser, unlimited by the confines of its operating system.
"You don't have to be a software engineer to get involved, and you don't have to program. Everyone is welcome to participate," reads a blog post today from Mozilla engineer Chris Beard. "We're particularly interested in engaging with designers who have not typically been involved with open source projects. And we're biasing towards broad participation, not finished implementations."
Specifically, Mozilla is looking for ideas that visually answer the question, where does the browser go from here? Last June, a concept video by engineer Aza Raskin depicting a possible future Mozilla browser for mobile devices -- maybe Firefox, maybe something else -- met with very positive response after being distributed by Mozilla.
Today, the organization added to its roster of possibly-indefinite-maybe concepts with the distribution of a set of high-definition videos, complete with human actors, assembled by a team led by Adaptive Path's Jesse James Garrett.
The videos depict not so much a browser but a complete operating system, called "Aurora," which borrows some concepts from both Mac OS X and Windows Vista, where all documents including those produced by the user and those retrieved from the Web, are represented by thumbnails that appear to float in three-dimensional space.
---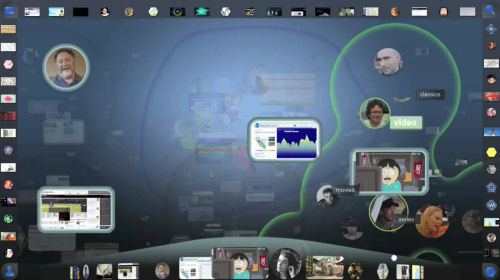 A screenshot from Adaptive Path's concept video for Aurora, produced for Mozilla Labs. Here, the user's history appears in the left of the frame, and most frequented items appear in the right. Shortcuts take up the top segment, while a "wheel" catalog of various other items scrolls left-to-right or right-to-left from the bottom segment. In the middle, a sea of contextually related items float in three-dimensional space.
---
That open space of interrelated contexts only appears when the user is looking for documents. In the meantime, the open page fills the screen. When the user needs to retrieve a document or some other object, or launch an application, in place of the desktop, Aurora uses a four-sided frame that surrounds the open page as it recedes slightly into the distance.
But that frame only contains elements the user has either bookmarked, or has used frequently or recently. When looking for other stuff, the user casts aside the open document window to reveal the 3D space. Here, thumbnails relate themselves to one another by their proximity, and are grouped together in hazy clouds with colored borders, like galaxies in a contextually related universe. Clouds with older items, Garrett explains in the video, recede further into the distance; although conceivably, clouds with both old and new items may find themselves widely dispersed across the z-axis.
Finding items in these galaxies is not a self-explanatory process, as even the user in the video herself proclaims in confusion: "It's gotta be here somewhere." With those words, she pulls up a text-based search line with which she places a query for the item she's looking for. Aurora takes her to the closest match, complete with zooming effects and a singing, awe-struck chorus in the background.
Mozilla is looking for individuals who would be as willing as Garrett's and Raskin's teams to produce similar concepts to be distributed through Mozilla Labs, though the organization isn't promising to do anything more with them than merely distribute them and talk about them. It advises participants that they should be willing to utilize either a Mozilla Public License or a Creative Commons License to distribute them, the latter of which would mandate that, although users may copy and make derivative concepts of these videos, the creator of the ideas embodied in those videos must be accredited.
Under such a license, if Mozilla itself were to use the concepts embodied in Garrett's Aurora or Raskin's "Fennec," it too would have to give proper credit to their creators. While Mozilla appears perfectly willing to do just that, it's possible that its own MPL might need to be tweaked if it ends up making such dreams into reality.