Ubuntu attracts the lion's share of LinuxWorld's smaller crowds

---
Download Ubuntu 8.10 (Intrepid Ibex) Alpha 3 from FileForum now.
---
Even though attendance was a bit sparse during this year's LinuxWorld Conference & Expo when compared to previous years, the Canonical booth -- where the latest Ubuntu Linux software was being shown off -- still managed to draw a crowd.
Each Ubuntu presentation and training session throughout the three days of LinuxWorld was heavily attended, especially compared to similar sessions elsewhere where relatively few attended. Ubuntu and Linux in general have, Canonical representatives claimed, have finally matured as a technology, rendering the need for an extravagant technology show no longer necessary.
Branching away from regular Ubuntu, there now is Ubuntu Server Edition Kubuntu, Xubuntu, Mythbuntu, Edubuntu, and Ubuntu Mobile Edition, with further permutations likely.
Ubuntu had a hectic week during LinuxWorld, with several different partnership announcements throughout the week.
The biggest Ubuntu announcement was its deal with IBM, announced during day one. Ubuntu signed an agreement with IBM so the two companies can work together to try and move the consumer industry more towards a "Microsoft-free world."
The Open Collaboration Client Solution -- consisting of Lotus Symphony, Lotus Notes, and Lotus Sametime -- can now be used with Ubuntu, Red Hat, and Novell SUSE Linux distributions. Trying to get the IBM-supported software running in Ubuntu before the announcement oftentimes proved to be a headache, while OpenOffice and Abiword are both free and easy to install in Ubuntu.
Canonical will distribute Lotus Symphony through its Web services before the end of August, the company said during LinuxWorld.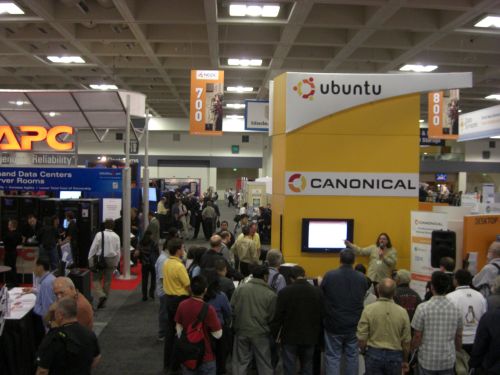 Later, Canonical announced a partnership with Alfresco Software, who makes the Alfresco Labs 3 content management platform. Ubuntu will implement a pre-built version of Alfresco Labs 3 in its software repository.
Ubuntu also is working with Unison, which provides telephony, e-mail, and instant messaging in a single server platform. The Unison client previously only operated on Windows-based machines, but the provider has ecently released a Linux client public beta version.
Finally, the Yahoo Zimbra Desktop will also be introduced into the Ubuntu Partner Repository, so Ubuntu users will have facst access to Yahoo Mail, Gmail, AOL mail and other e-mail accounts that are IMAP or POP enabled.
Ubuntu distributed its two latest editions, version 8.04.1 LTS (Hardy Heron) and Kubuntu 8.04. Hardy Heron has been the most popular Ubuntu release to date, with the Wubi Windows-based installer a welcome addition. Wubi is able to install Ubuntu on the same partition used by Windows, without actually partitioning or formatting it.
Canonical is the commercial sponsor of Ubuntu, which owns the Ubuntu brand and offers paid commercial support to users.