New Dell Latitudes promise 10 to 19 hours of battery life

In an announcement that harks back to Dell's roots, when during the 1990s it tested a number of its laptops during four-hour flights, the company said its new Latitudes will add continuous battery life for as long as 19 hours straight.
At a Dell press event in San Francisco this morning, its Senior Vice President for the business products group, Jeffrey Clarke, filled in the biggest missing element in Dell's description of its completely redesigned Latitude product line to this point: Dell, he says, has developed a proprietary power cell technology that will enable Latitudes to run continuously while unplugged for at least 10 hours, and intermittently for as much as 19 hours straight.
The new battery technology will be implemented in all seven of Dell's new models, though it's likely that power consumption metrics will fluctuate between its standard mainstream model, its new widescreen model, and its new Latitude UMPC which may sip power more slowly.
Clarke told attendees at today's press event that, in recent discussions with Dell customers, their desires boiled down to four elements, number one being the need for longer battery life. Second on the list was a need for data security, especially in case of loss or theft; third is improved design (represented by a number of improvements including magnesium allow construction, keyboard backlighting, and optional Samsung solid-state disks across all models), and easier remote management by IT administrators.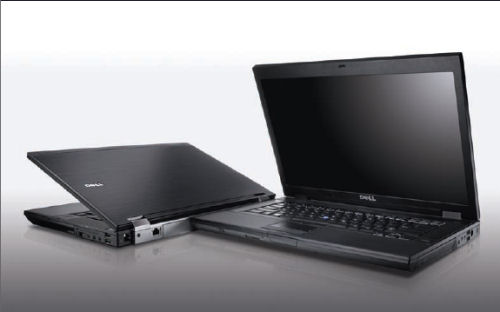 The size of the external AC adapter has been reduced by half, Clarke added, and should be able to restore as much as 80% of battery power after one hour of being plugged in. And another enhancement is a built-in free-fall detector capable of parking the hard disk drives for falls as short as six inches.
---

7:00 pm EDT August 12, 2008 - In the coming weeks, Dell told attendees this morning, customers should expect to see an ultra-portable 12.1-inch Latitude E4200 model and a 13.1-inch lightweight UMPC as well (pictured above, on the left partly shut), both with available Samsung solid-state drives.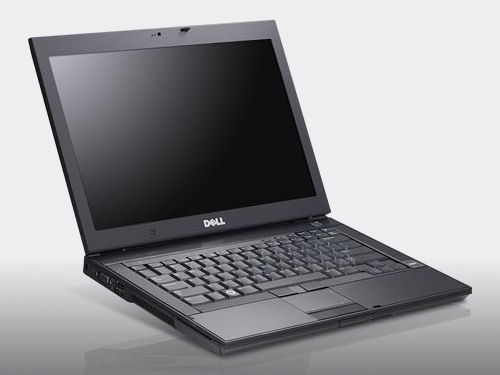 But available starting today is Dell's new business-class Latitude E6400. This afternoon, we configured one model with what we know to be the optimum configuration for running Windows Vista Business. We traded up from the standard 2.26 GHz Intel Core 2 Duo P8400 to the 2.53 GHz T9400, we bumped the resolution on the 14.1-inch screen to 1440x900, we moved from 2 GB of DRAM to 4 GB, we replaced the 5400 rpm 160 GB hard drive with a 250 GB 7200 rpm model, we added the built-in fingerprint reader (which Dell's Jeff Clarke today characterized as a must-have), and we replaced the CD-RW/DVD combo with a DVD-R combo (why you'd not want to burn to DVD is beyond me).
That brought our "Productivity Package" ticket price up to $2,234 from $1,373. Granted, the 2.53 GHz processor is the big draw here.
That said, we found a similarly equipped Toshiba Qosmio F55 with the same processor and 15.4-inch screen (albeit without the fingerprint reader and backlit keyboard), for just over $1,700 online.