Cray CX1: the supercomputer you can buy online

Cray debuted its smallest and most consumer-oriented "supercomputer" today, the CX1, which will sport Intel Xeon chips and Windows HPC Server 2008. Available immediately, this low end unit embodies the changing state of power computing.
The CX1 chassis has enough room for eight blades of single- or dual-socket Intel Xeon processors. In today's presentation, Cray said the current peak configuration for the chassis is 64 cores with 3.4 GHz bus working at 786 gigaflops. Each chassis can be connected to up to 4 TB of storage.
Designed for in-office use, the system is equipped with an active noise cancellation system comparable to those found in isolating headphones, a built-in visualization node, and pre-configured power supply. Cray rationialized that "three quarters of the market prefers pre-assembled systems from traditional computer vendors to assembling their own."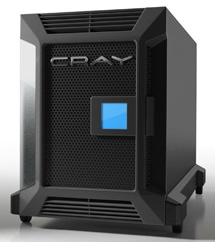 While seven of the top 500 supercomputer clusters are built upon Cray's XT4, including the 30,976-core Jaguar at the Department of Energy's Oak Ridge National Laboratory (the fifth largest in the world), the company's systems and performance share has diminished consistently since 1993 as HP's has grown. IBM has also shown tremendous growth in the same period.
This CX1 machine is distinctly different from Cray's prior offerings: It is the company's first attempt at a "personal supercomputer," what is sometimes referred to as a "mini-supercomputer." It will be immediately available online for as low as $25,000, and though it has the consumer-friendly Microsoft brand associated with it, it can also run Red Hat Linux Enterprise v5.