Palm hangs on for another quarter

The Treo Pro is Palm's "Hail Mary" play in slow motion. The smartphone company has limped through another quarter on the brave little legs of the Centro, and is positioned for what could be its last, best hope.
In the fourth fiscal quarter of 2008, Palm's record breaking sales of the $99 Centro were bittersweet, and the taste is lingering. Now, the latest numbers show it's sold more than a million units -- more than any other of Palm's products, fully bucking expectations. But although Centro has proven to be a formidable introductory smartphone that has grown Palm's customer base tremendously, its margins are so low that it can't pull in enough profit to keep the company moving.
Palm CEO Ed Colligan said at the beginning of the fiscal year that it was time for everyone in his company to just keep their heads down and push for the release of the Treo Pro, which should add more weight to the product line.
"As encouraging as our August quarter was, we are still solidly in the midst of a transformation with some significant hurdles yet to come...given the maturing Centro life cycle and the time it will take to ramp our Windows Mobile-based product sales worldwide," Colligan said in the company's most recent earnings call. "Revenues will still be under pressure and profits elusive, so we are managing expenses carefully and driving the company to keep our cash burn as low as possible through our transformation."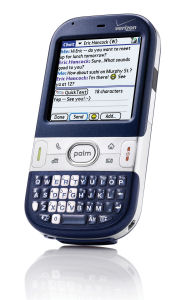 The cash burn for the first quarter of '09 amounted to $41.9 million, or 39 cents per share. With the Treo Pro still lacking a domestic carrier, and with the current economic climate growing colder, Palm is taking an inordinately large risk by relying on the device's success.
However, if it catches on, and Palm weathers this tumult, it will be in a strong position in the convergent mobile Internet device market.
"We are a company engaged in an exciting and challenging transformation amidst one of the most fundamental changes ever in our industry...the shift of the center of gravity of all personal computing and communications to the mobile device," Colligan said in closing. "Even though this period is undeniably difficult in this short-term, we are excited to meet the future."