Motorola dashboard computer uses Windows Mobile 6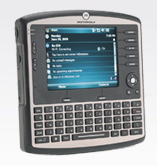 Motorola today introduced an all-in-one in-car computer system that runs on Windows Mobile 6, thrusting the mobile OS into the turf where Windows XP and CE reigned.
Motorola has introduced its VC6096 dash-mounted mobile computer, designed especially for vehicle-based workforce applications. Emergency and police vehicle systems, though differing from state to state, most frequently run either Windows XP and XP Embedded (<!external href="http://www.glaciercomputer.com/pdfs/Magnum%20Datasheet%204.25.07.pdf">PDF available from Glacier Computer for one example) or Windows CE.
Of course, Motorola has dealt with in-vehicle computer systems for a considerable amount of time, and units like the MW-520 workstation were often equipped with <!external href="http://www01.smgov.net/cityclerk/council/agendas/1999/s1999091406-D.html">Windows 98 SE and Win2K.
The most interesting facet of the VC6096 is that it is based on Windows Mobile, and could conceivably be the largest Windows Mobile 6 device yet. In terms of in-car computer systems, however, it's actually quite small at 9.53" x 9.25" x 1.95" with a 6.5" VGA touchscreen. It can be connected to an SAE J1708 or SAE J1939 telematics bus to work in tandem with fleet management or vehicle tracking systems, and has a SiRFstarIII GsC3ef/LP GPS chipset, GSM HSDPA, 802.11 a/b/g, and Bluetooth 2.0.
Its wireless LAN supports WPA2, WEP (40 or 128 bit), TKIP, TLS, TTLS (MS-CHAP), TTLS (MS-CHAP v2), TTLS (CHAP), TTLS-MD5, TTLS-PAP, PEAP-TLS, PEAP (MS-CHAP v2), AES, and LEAP.