MySpace opens its user-created advertisement platform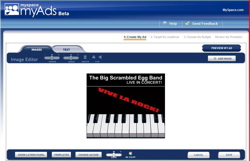 The MySpace consumer ad platform which was <!article id="1222276886">unveiled at the end of September has been Re-unveiled as "myAds-beta," giving entrepreneurs the ability to buy "Hypertargeted" ads on MySpace.
Though adorned with a gimmicky name, myAds' "Hypertargeting" system is genuinely interesting. After creating the visual content of the ad, the user then chooses where the ad points and at whom it will be targeted. First, by gender: male, female, or both; and then by age, which includes a tab for "all ages" and then two drop boxes that can be ranged from 14-65+. It also allows the targets' physical location to be chosen: National (US,) Region (Northeast, Southeast, Midwest, Southwest, West) or by state and city.
The real exploitation of MySpace comes in the ability to target an audience by its interests. Interests are sorted by category and then genre, for example: Video Games>Franchises>Final Fantasy. Each category and genre then lists the number of users within that group (Final Fantasy has 92,414 if you were interested). After the client selects the desired categories and genres, myAds tallies the number of users in the newly-created target group. There are over 1,100 total targetable categories, comprising the 76 million United States MySpace Users.
The customer can then set the total budget of her ad campaign, and how much it pays per click. It can actually go as low as $25 with 25¢ per click, or as high as $10,000 with $25 per click.
<!image id=2092 right>She can then upload pre-made 300 x 250 or 728 x 90 .JPG, .GIF, or .PNG banners that are less than 600K in size or utilize the Wizard interface for ad creation.
The ad wizard is similar to <!article id="1194641878">Adobe's Photoshop Express, offering rudimentary, but highly usable tools to create an ad on the fly. It also includes a list of ostensibly purpose-oriented templates which are already broken into layers and "fill in the blanks" text zones.
<!image id=2091 left>Once a layout is selected, the ad creation window offers one tab for images, and one tab for text. Each tab contains tools that allow for various scaling and rotation manipulations to take place, and changes are broken into layers which can then be shuffled or renamed.
In BetaNews tests this afternoon, myAds did not work in Webkit browsers Safari and Chrome, but did in both Internet Explorer 7 and Firefox 3.