Intel's 'PADD'-like prototype shows goals for Moorestown

Intel showed off developments with its latest Mobile Internet Device platform, Moorestown, at the Intel Developer Forum in Taipei yesterday, highlighting the connectivity it will offer.
"The full internet in your pocket is a major, major transformation," Anand Chandrasekher, senior vice president and general manager of Intel Ultra Mobility said, while holding up a device that looked more like an iPhone than an Internet tablet, "It is not possible today. It requires some fundamental innovation to happen to make this pocketable. We're engaging in that innovation, and it's a big transformation."
While the actual device he handled was only a semi-functional prototype of a design the company has been showing off since last year's IDF, the innovation of which Chandrasekher spoke is now being planned for what it's calling the Moorestown platform.
It has long been known that Moorestown will be a highly connective and energy efficient platform based upon the 45 nm Atom processor. A big development came yesterday as LM Ericsson announced it will provide the HSPA chipset for Moorestown's 3G mobile connectivity.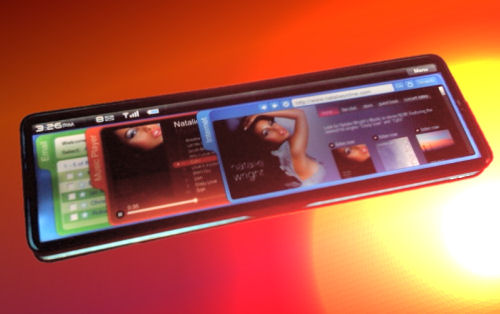 Based around Ericsson's latest generation WCDMA/HSPA/GSM/EDGE module, the new chipset will be optimized for use with Moorestown and Moblin-based Linux systems.
When Ericsson recently announced its HSPA modules would be used in upcoming LG notebooks, the company said it expects a 50% penetration of HSPA in notebooks by 2011. The Moorestown platform is expected to be released in either 2009 or 2010, with the Lincroft system on a chip which is comprised of the atom microprocessor, integrated graphics and memory controller, as well as a Langwell I/O hub. It will support other forms of wireless communication as well; including WiMAX, WiFi, GPS, Bluetooth, and Mobile TV (presumably DVB-H, as Intel is a member of the Mobile DTV Alliance).