Novell and Microsoft sanction Silverlight work-alike for Linux

In the next stage of what has turned out to be a more successful project than even its creators envisioned, the public beta of Moonlight -- a runtime library for Linux supporting sites that expect Silverlight -- is expected within days.
Microsoft and Novell made their joint announcement this morning in acknowledging the two-year anniversary of their historic, and still talked-about, partnership agreement. It effectively confirms the timeline put forth by Moonlight's parent organization, the open source Mono Project, which is also responsible for building open source versions of the .NET Framework runtime for Linux, Mac OS X, and yes, for Windows as well.
Moonlight should effectively make Web sites and services geared for Silverlight 1.0 run effectively in Linux. Developer Miguel de Icaza, who leads the Mono Project, first announced the November availability of the Moonlight beta at PDC 2008 in Los Angeles last month. At that time, he revealed the extent of Microsoft's and Novell's control over the project by essentially telling one attendee that the Moonlight beta was practically ready to go already, but that it would be up to the two corporations jointly -- not to him or his partners -- to decide when the beta launches. At that time, he had not been given a precise date.
Meanwhile, work on a Moonlight version that's compatible with the current Silverlight 2.0 is already under way. A beta of that project might even have been available sooner, de Icaza said, if not once again for Microsoft.
"We basically had to suspend work on [Moonlight] 2.0 when...it's complicated...when we got the codecs from Microsoft and we had to port them," he explained. For now, he expects publicly available code for the 2.0 version by the time of Microsoft's MIX 2009 conference in Las Vegas, which is currently scheduled for March 18.
In the meantime, however, de Icaza said, "At least you can watch Channel 9 and play poker and kill moose."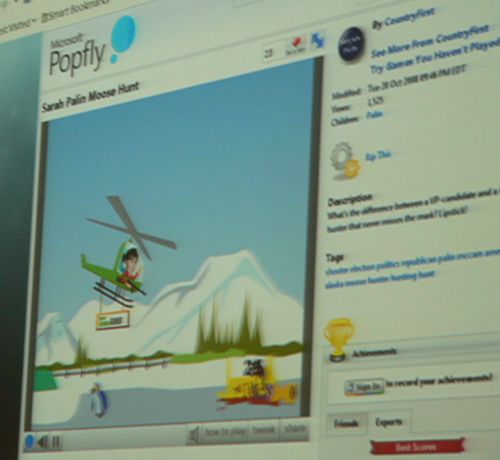 Kill moose? Indeed, that's part of a testbed for Moonlight's ability to run Microsoft apps developed for Silverlight. It's a game running on Microsoft's gaming development research site Popfly, called "Sarah Palin Moose Hunt." De Icaza borrowed the would-be Vice President's image to demonstrate how effectively Moonlight not only displays graphics, but handles keyboard responses in real-time, which is vitally necessary for gaming. (And killing moose.)